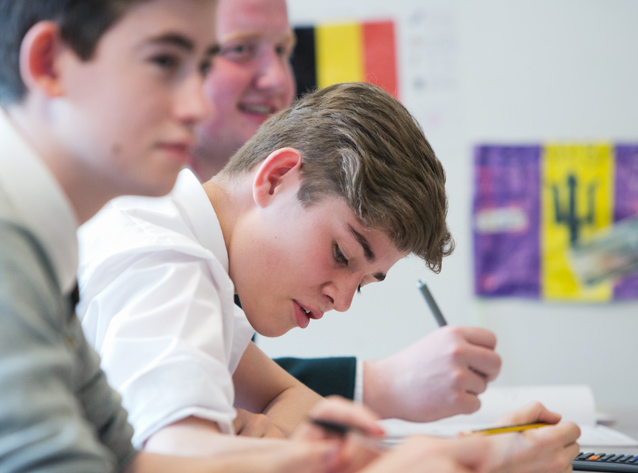 "We look to provide pupils with the foundations from which to 'go forth, set the world on fire'…"
Our aspiration for young people in the Green Blazer is that they find a balance between study and service. We want each pupil at the College to achieve academic excellence within the wider context of human excellence, developing their individual talents and skills to their full potential and using those skills for the benefit of others.
We look to form men and women for others, who love to learn and share that learning with others. Through our curriculum and wider programme of human excellence, we look to provide pupils with the foundations to "go forth, set the world on fire" as they each answer their personal call from God.
Curriculum
Pupils in the Senior School benefit from a broad and wide-ranging curriculum with true depth and value. It mixes the traditional with the modern, covering all subjects from Latin and Classical Studies to Product Design and Media Studies. The College has an innovative approach to the curriculum and is at the forefront of new technology, being among the first in the country to introduce iPads in classrooms as part of an advanced digital learning scheme.
In Jesuit schools the curriculum centres on the person rather than the material to be covered, which is why we offer flexible timetabling. This allows pupils to study almost any combination of subjects from S3 onwards, giving them them the best opportunity to enhance their skills and make the most of their individual talents and interests.
Each pupil in the Green Blazer is given the opportunity to develop and achieve their individual objectives at a pace fitting their own ability and personality. Additional support for learning is implemented across the curriculum and is crucial in allowing pupils to learn and realise their potential in the classroom.
Pupils in Senior 3 and 4 study National 5, whilst Senior 5 pupils sit Highers, the majority achieving five in one sitting. In Senior 6, most pupils undertake a combination of both Higher and Advanced Higher qualifications.
Academic Staff
As a school we aim to employ passionate and enthusiastic academic staff whose own love for learning translates in the classroom. Our teachers want to share their enthusiasm for their subject with the pupils in a way that encourages a common love of learning.
Teachers help students become independent learners, encouraging them to take ownership of their own education whilst keeping track of their progress to ensure they achieve their full potential.
In keeping with our desire to create lifelong learners, staff keep abreast of changes in the curriculum, advancements in technology and new academic research that enhances the learning experience for pupils.
Careers
Many of our pupils go on to study in Glasgow, entering the professions – something for which our school has a longstanding reputation. We also see a large number of pupils venture further afield, studying and working around the UK and, in some cases, abroad. The College supports a number of pupils through the application process to entrance at Oxford and Cambridge, where several Old Aloysians have graduated from or currently study."
Our dedicated careers staff guide pupils towards their correct professional or vocational pathways with careers events throughout the Senior School. Help and advice for UCAS applications and interview is always at hand and our extensive work experience programme is second to none.