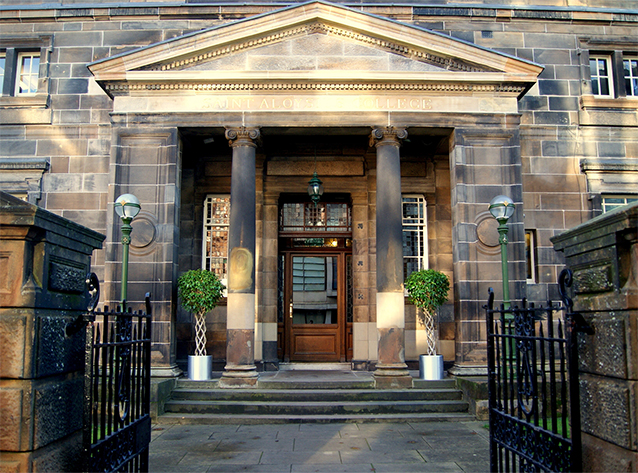 Admissions during Coronavirus (COVID-19) Outbreak
During the Coronavirus outbreak, we are unable to carry out tours or Taster Days for prospective families.
However, we are still accepting applications and our admissions team is on hand to take you through the process and answer any queries you may have, no matter how big or small. Get in touch today at admissions@staloysius.org or call 0141 332 3190.
You can also request a digital version of our prospectus here.
TOURS
We can fill website and prospectus pages with information and details of our ethos, curriculum, and after-school clubs, but there are some elements of St Aloysius' that simply cannot be captured in a form of words.
This is why we encourage families to see for themselves why so many describe the College as unique.
Everyone behind the doors of 45 Hill Street has a Green Blazer story to tell, which is why a visit to our school provides invaluable experience when it comes to deciding if St Aloysius' is a good fit for your family.
The College has a wonderful atmosphere and energy, which you can't help but experience during a real school day. Our bespoke tours are the best way for you to become familiar with our friendly campus.
Let us know which subjects your child has a passion for, where their greatest talents lie and in which areas they might need a little more encouragement. That way, we can tailor your visit to suit their needs.
Start your story today. Book an individual tour by calling us on 0141 332 3190 or email admissions@staloysius.org
TASTER DAYS
We want to make sure that St Aloysius' is the right fit for every child who slips on the Green Blazer, which is why our Taster Days prove so popular with prospective families.
We have found that Taster Days are the best way to introduce your child to life at the College. As an Aloysian for the day, your child will join their peers in class, becoming immersed in College life. Your child will experience the curriculum for themselves and the benefits of our class structure, whilst being buddied with current pupils for break time and lunchtime down time.
Start your story today. Organise a Taster Day at any stage of the application process by calling us on 0141 332 3190 or email admissions@staloysius.org