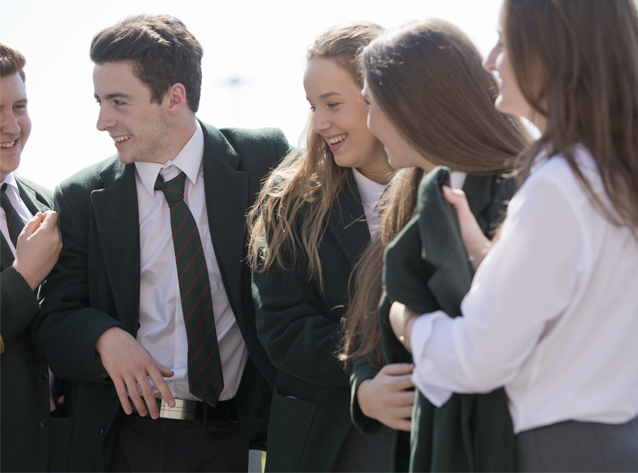 The most immediately prominent aspect of life at St Aloysius' is the clear culture of care and respect found in pupils wearing the Green Blazer. Every child is known and loved within the educational community and staff go the extra mile for those in need of care and encouragement.
The College has an integrated Pastoral Care team, with two year offices for Lower school (S1 – S3) and the Upper school (S4 – S6). Each year group has a dedicated Head of Year, specialising in the knowledge of that particular age group, whilst each Assistant Head of Year follows a year group all the way from S1 to S6 in order to build up a true sense of the child. This new and innovative way of providing support for each child symbolises the essence of cura personalis – care for the individual.
As part of the wider educational community, staff work in partnership with parents to ensure any barriers to learning or social and emotional difficulties are faced together, ensuring pupils have the support and encouragement they need to flourish.
A recent Education Scotland inspection recognised the College's pastoral care and safeguarding as sector-leading. The active pupil and parent councils ensure that all voices in the College are heard.
PASTORAL CONTACTS
Mr Ferrie, Assistant Head (Pastoral) - RFerrie@staloysius.org
Ms Catani – Gcatani@staloysius.org
LOWER SCHOOL OFFICE (S1-S3) - 0141 331 9250
Pastoral Secretary (Lower School) - Anna Trache - ATrache@staloysius.org
Head of S1: Mrs Hartshorne - GHartshorne@staloysius.org
Head of S2: Mrs Piggot - RPiggot@staloysius.org
Head of S3: Mr Meechan - DMeechan@staloysius.org
UPPER SCHOOL OFFICE (S4-S6) - 0141 331 9230
Mrs Ross, Pastoral Secretary (Upper School) - claireross@staloysius.org
Head of S4: Mrs Freer - RFreer@staloysius.org
Head of S5: Mrs Conroy - JConroy@staloysius.org
Head of S6: Miss Lawrie - ELawrie@staloysius.org