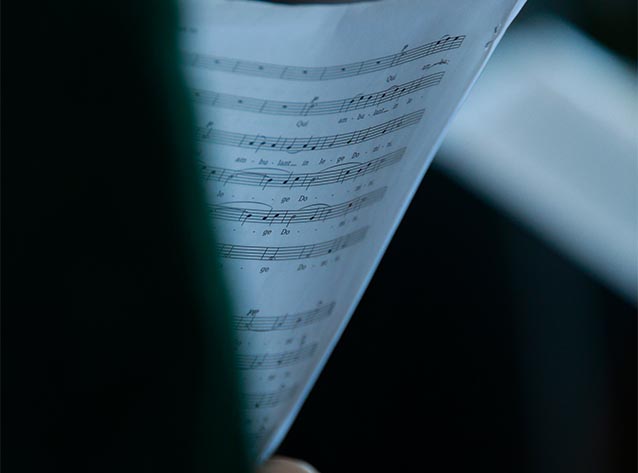 Music is an important part of the curriculum in all Scottish and Jesuit schools, promoting creativity, confidence and self-expression. In addition, Music is a fundamental ingredient in all the public and set-piece occasions of school life, from liturgies to prize-giving and concerts. Our liturgies take place in the beautiful St Aloysius' Church, with its newly installed pipe organ.
Individual Lessons
Instrumental tuition forms a large part of the work of the Music department, and individual lessons are available for most instruments, including: piano, voice, strings, woodwind, brass, percussion, guitar, harp/clarsach and bagpipes. Theory of Music lessons are also available as part of a small group. These lessons are delivered by a team of visiting tutors. Pupils are encouraged to sit external exams including those of the Associated Board of the Royal Schools of Music and Trinity College.
Senior String Group
The Senior String Group meets at lunchtimes and offers pupils the opportunity to play music with other string players in a variety of different styles.
Senior Wind Band
The Senior Wind Band is open to all woodwind and brass instrumentalists. Designed to bring together all wind players, our group plays a huge variety of styles of music.
Piping Group
The Piping Group is open to all pipers, including those playing on chanter or bagpipes. The group gives pupils the opportunity to play traditional Scottish music, and the group normally performs in an annual recital and at other school events.
Jazz Band
The Jazz Band is open to all woodwind, saxophone and brass players, along with those who play drums or bass guitar/double bass.
Opera Group
The Opera Group rehearses on a Thursday afternoon after school. Past performances have included extracts from Mozart's 'Magic Flute', 'Trial by Jury' by Gilbert and Sullivan, Handel's 'Acis and Galatea' and Sondheim's 'Sweeney Todd'. The group has performed at Greyfriars Kirk in Edinburgh as part of their 'Spark' lunchtime recital series and with The Glasgow Studio Orchestra.
Music Theatre Group
The Music Theatre Group's work towards the Performing Arts Showcase performance in March, and take part in other events from time to time. The group has performed extracts from a wide variety of musicals including Les Miserables, My Fair Lady, Oliver!, Blood Brothers and The Lion King to name just a few. There are opportunities for solo, ensemble and group work.