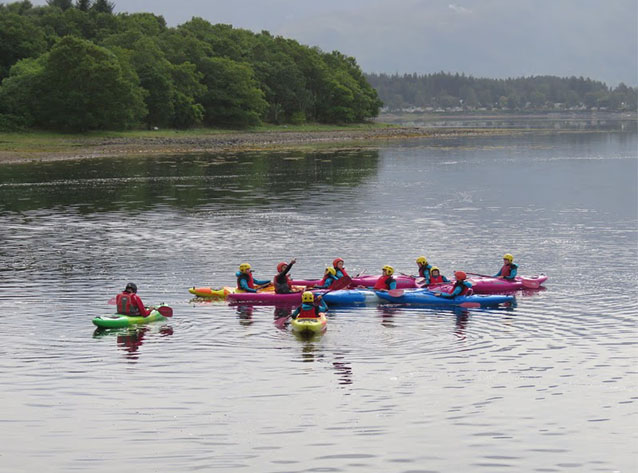 "Everybody needs beauty as well as bread, places to play in and pray in, where nature may heal and give strength to body and soul." John Muir
The College recognises that as part of our student's development as a whole, it is important to have the opportunity to spend time outside the classroom. At St Aloysius' College, we are fortunate to have easy access to outdoor pursuits in the variety of wild places that Scotland has to offer.
The Outdoor Education Department has a dedicated full-time Head of Outdoor Education, supported by a Duke of Edinburgh administrator, specialist climbing and canoeing coaches, along with a highly qualified and experienced associate instructional team, that support the weekly co-curricular and curricular activities that the department runs throughout the year.
Outdoor learning evolves throughout the Junior School. The long-term aspiration is to give all year groups from Kindergarten to Primary 7 quality exposure to nature and the many wonders it provides.
Isle of Cumbrae Trip
In March our Primary 5 pupils take part in an overnight stay at the award-winning Field Studies Centre on the Isle of Cumbrae, near Millport. The children are given a glimpse of some of the amazing and diverse ecosystems which exist in nature through fun and engaging activities.
Ardmay Outdoor Education
Primary 6 pupils head away for a weekend adventure in May. If the weather permits, the trip includes canoeing, climbing, team activities, and weaseling! This is a fun excursion and helps pupils become familiar with the adventures and challenges of being away from the familiarities of home.
Climbing
Before Primary 6 pupils head away for their Outdoor Education residential to Ardmay, the children have a morning's climbing at the Glasgow Climbing Centre. This allows the children to have practice in harnesses and help reduce any anxieties that some may feel about climbing.
Outdoor Education Day
The Primary 7 Outdoor Education Day incorporates two activities: mountain biking and the National Navigation Award assessment. Classroom-based sessions in the foundations of navigation lead to pupils plotting a route and walking it.
John Muir Award
The John Muir Award is an excellent initiative that involves exploration, discovery and the conservation of wild places. Traditionally the introduction to the outdoor programme at the College, before the outdoor programme expanded, The John Muir award still continues to be the backbone of the many principles which emerge throughout the College's entire outdoor ethos. We currently combine the award with a classroom-based novel which then compliments the expansion into the exploration and discovery days the children will be involved in. We visit woodland habitats and coastal environments on our journey and this year, after the success of our milk carton igloo, the conservation project will focus on growing trees for planting.