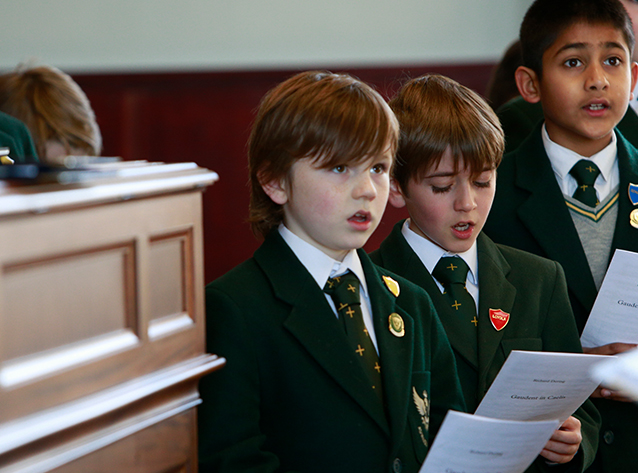 The Schola is a choral programme unique to St. Aloysius' College. Pupils from P4-P7 get a chance to join some excellent choirs and are also offered a much wider educational experience. Members of the two junior choirs get subsidised instrumental lessons in an orchestral instrument. All choristers get the chance to learn using the Royal School of Church Music Voice for Life Scheme, and over 80 pupils have achieved Bronze or Silver awards.
Schola Puellarum
This is our junior Schola for girls. Girls from Primary 4 are members, and there is a simple audition to join, to gauge potential. It leads Junior School liturgies, and sing some Sunday Masses (about 7 per year) at St. Aloysius' Church, as well as a programme of concerts and other performances. In the last three years, they have been to Edinburgh, Windsor, and Yorkshire singing all sorts of music, from plainchant to Latin American, and from songs about go-carts to African songs.
Schola Puerorum
This is our junior Schola for boys. It works in exactly the same way as the girls' Schola, and the opportunities are also exactly the same (although the songs are different). Occasionally the choirs even sing together, as they did when singing backing vocals for Andrea Bocelli at the SSE Hydro a few years ago.
Junior School Choir
The Junior Choir is by far the largest choir in the college, currently hosting 120 Primary 5 - Primary 7 pupils. Pupils have the option to join this choir and rehearse every Friday morning. This is an award-winning choir who compete every year at the Glasgow Music Festival and perform at various events throughout the year.
Infants Choir
In the Infant department, Primary 1 and 2 make up the St Aloysius' College Infant Choir. The choir sings a range of fun songs and the boys and girls work towards competing at The Glasgow Music Festival. The infants' choir is a great way to inspire our children to sing.
Training Choir
Primary 3-4 pupils have the option to progress into the Training Choir. The Training Choir sings a range of musical styles and are a competitive choir who also perform at events such as the Christmas Carol Service
Scots Choir
The Scots Choir is for Primary 6-7 girls. This traditional choir focuses on learning beautiful Scots songs. While the emphasis is on traditional songs, the girls enjoy developing their skills in a relaxed environment. This is also an award-winning choir.