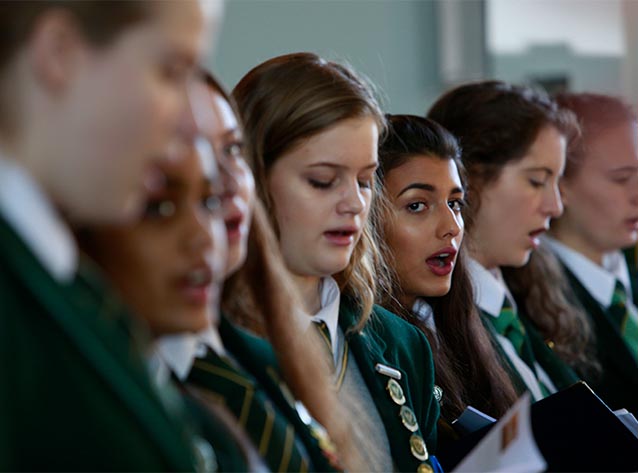 The Schola is a choral programme unique to St. Aloysius' College. Pupils from P4-S6 get a chance to join some excellent choirs, but it is also a much wider educational experience. Members of the three auditioned choirs get the opportunity to receive free singing coaching, and members of the two junior choirs get subsidised instrumental lessons in an orchestral instrument. All choristers get the chance to learn using the Royal School of Church Music Voice for Life Scheme, and over 80 pupils have achieved awards.
Schola Cantorum
The Schola is the College's chamber choir. We lead College liturgies, sing some Sunday Masses at St. Aloysius' Church and have a busy programme of other performances and concerts. We have sung Mass in St Peter's basilica, Rome, Liverpool's Metropolitan Cathedral and as part of 'Sunday Worship', live on BBC Radio 4. We are looking forward to a return visit to Liverpool next year. We also sing folksongs, jazz, spirituals, a cappella. Entry is by audition, normally from S3 upwards.
Schola Nova
The Schola Nova is an unauditioned choir, consisting of pupils from S1-S3. It is a transitional choir; many choristers from the Schola Puellarum and Schola Puerorum go straight to the Nova. However, it is very much open to all. We sing one Mass per term at St. Aloysius' Church, and at College Masses. We are former winners of The Herald Challenge Trophy at the Glasgow Music Festival and sang at The Phoenix Choir Christmas concert in The Concert Hall with The Cantorum.
Senior School Choir
The Senior Choir is an unauditioned choir open to all pupils from S1 to S6. All that is required from members is to be enthusiastic about singing, and you do not have to be able to read music to take part. The choir participates in concerts at least twice a year and sings alongside the Schola choirs at school Masses.