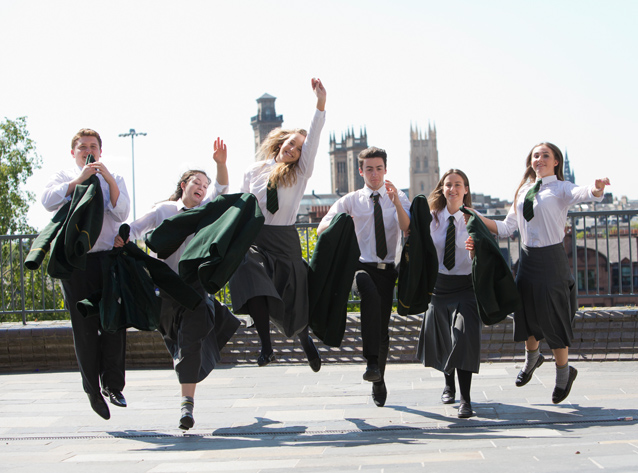 Arrupe Programme
The Arrupe Programme was established in 2006 and was the first of its kind in the UK. Pupils spend time working in nursing homes and schools, and with asylum seekers and charities, giving something back to the community. It is an opportunity for students to use their own gifts and talents for the benefit of others. Named after Fr Pedro Arrupe SJ, this project has become the model for other Jesuit schools in Britain.
Caritas Award
Similar to the Arrupe Programme, the Caritas Award was introduced by the Bishops of Glasgow to keep a legacy of Pope Benedict's visit to the city in 2010. Senior 6 pupils commit their final year to service in the community, faith learning and reflection. Children's Fund: Set up as a Charitable Trust in 1982, the Children's Fund is run by a group of trustees made up of staff, parents and pupils who provide help, entertainment and holidays for disabled and socially deprived children in Glasgow. Each year, in preparation for the end of year holiday, pupils host Halloween and Christmas parties for the children, whilst fundraising towards the cost of the holiday.
Lourdes Pilgrimage
Pupils fundraise all year round to pay for a group of pupils and staff to take a group of 13 children with special needs on the Lourdes pilgrimage. This not only an enjoyable and rewarding experience for our young people, but also provides an opportunity for essential respite for families. Their reflections demonstrate an understanding of the difficulties faced by the children and their families, and a realisation of what it really means to be men and women for others.
Charities
Our young people demonstrate the community service aspect of Jesuit education through a variety of different charity events and fundraisers throughout the course of the school year. We are regular contributors to Starter Packs, Fairtrade, Salt and Light, Mary's Meals, Pro Life and the Jesuit Missions, as well and many others.