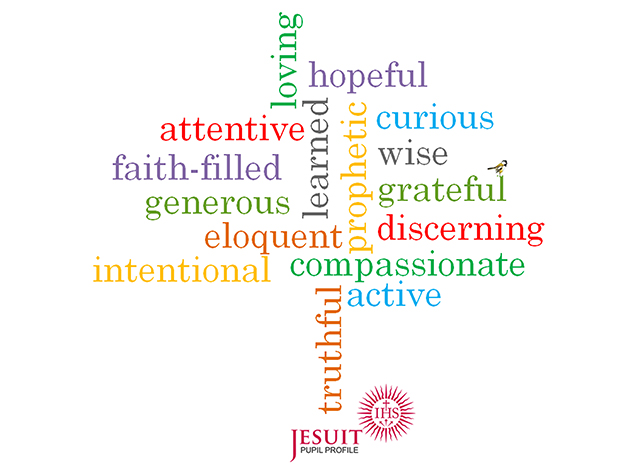 "Jesuit education is a special style of Catholic education which focuses on formation of the whole person..."
Jesuit schools take seriously the formation of character, calling pupils, teachers and all of those in the educational community to be grateful and generous, faith-filled, loving and hopeful, to be attentive to their own experience attitudes and reactions, and discerning in the way they make choices and decisions.
Across the world, Jesuit schools seek to form the spirit of their pupils through reflection, the art of discernment, as schools of prayer and faith. There is an attentive care and knowledge of children as individuals which allows them to flourish and provides support and encouragement when life at home or at school is difficult.
The Jesuit Pupil Profile proposes a simple but challenging statement of the qualities we seek to develop in pupils in Jesuit schools, using key words which unfold Ignatius' own stated aim of "improvement in living and learning for the greater glory of God and the common good."
Pupils in a Jesuit school are growing to be . . .
- Grateful for their own gifts, for the gift of other people, and for the blessings of each day; and generous with their gifts, becoming men and women for others.
- Attentive to their experience and to their vocation; and discerning about the choices they make and the effects of those choices.
- Compassionate towards others, near and far, especially the less fortunate; and loving by their just actions and forgiving words.
- Faith-filled in their beliefs and hopeful for the future.
- Eloquent and truthful in what they say of themselves, the relations between people, and the world.
- Learned, finding God in all things; and wise in the ways they use their learning for the common good.
- Curious about everything; and active in their engagement with the world, changing what they can for the better.
- Intentional in the way they live and use the resources of the earth, guided by conscience; and prophetic in the example they set to others.
You can find out more about the Jesuit Pupil Profile here.