Academic
14th January 2022
Amazon GetIT Competition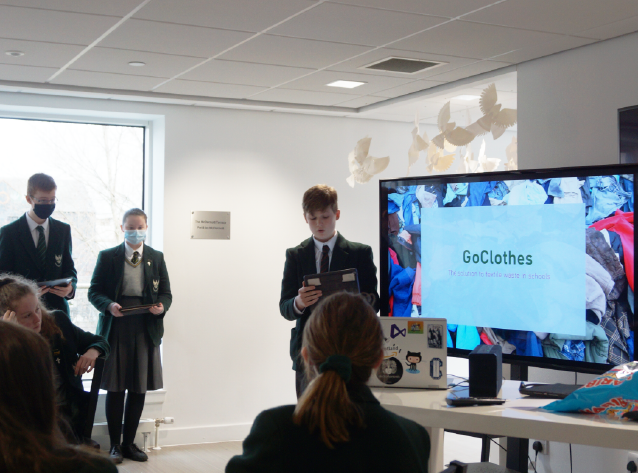 Our S2s recently took part in an exciting project – Amazon's GetIT competition. Four teams were selected after passing an initial round to pitch their digital projects, with a focus on the environment and sustainability. AWS employees joined us via webcam to judge the presentations. Here are all of the great ideas that were on show:
2K team Planet Fuel had an interesting spin on something a lot of us took up while in lockdown – cooking. Identifying the common problem of food wastage – our young developers took initiative and designed an app that alerts you of food about to go out of date in your cupboard, and offers you a tasty recipe to turn it into something for dinner! Don't worry if you can't cook either – the app will show you tutorials so you will be making tasty meals in no time.
Glasvegan from 2B were next. Their app was designed for people who were unable to cook meals, whether due to a disability or not having enough time when you come home from work. A new spin on the many popular food delivery apps available, their app identified which foods were at the lowest risk of causing harm to the environment, and awarded the user points for purchasing at more eco-friendly restaurants. Research was carried out to determine where the most sustainable food comes from.
Tackling the local issue of littering, 2H's group Calm and Collected aimed to help tidy up communities and improve mental health. Their app involved playing an online game that encouraged players to meet up with their friends in real life to help clear local parks and spaces of litter.
Finally, from 2K, team GoClothes' app was designed as a second-hand clothing marketplace that could be used for families who were unable to afford school uniforms. Going further than their presentation, one member of the team had even made a live demo to showcase how the website would function.
After much deliberation, the judges choose GoClothes and Calm and Collected to progress to the next stage. These groups will now be mentored by Amazon ambassadors to finalise and submit their app ideas to the national competition. Stay tuned to hear all about their progress!