Community
Senior
26th May 2022
S3 Race for Life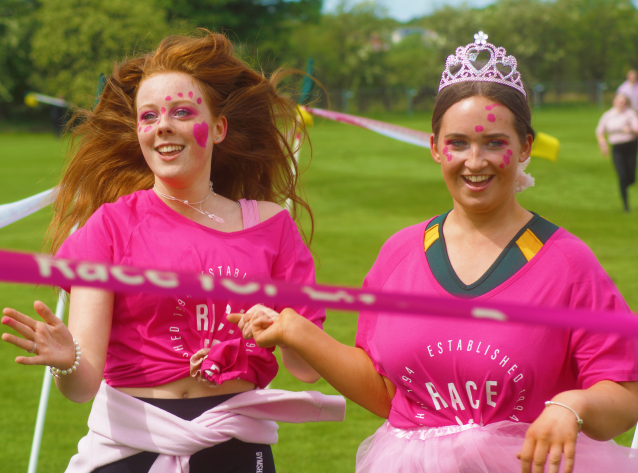 If you were driving by our Millerston sports ground last week – you might have seen that our usual sea of green had been replaced with pink. This was because our S3s were taking part in their own Race for Life event, raising money for Cancer Research.
We were treated to a wonderfully sunny day for our race – which encompassed a lap and a quarter around Millerston. We had some walkers, some joggers and some runners - but the highlight of the day was definitely all of the amazing outfits on show, some of which you can see in our photo gallery over on our Facebook page.
All participants received a medal for their amazing fundraising efforts. A few pupils received special recognition at our Celebrating Success assembly for their achievements:
Jed H. for having the best costume.
Alex M. and Jamie B. for winning the race with a stunning joint photo finish.
George G. for raising the most in the year group – a staggering £270.
The final total for the fundraising day was over £2000. Well done to everyone for their efforts and for helping to raise funds for a worthwhile cause.
Ms. Sturrock and Mrs. Freer added:
"We had a great day and raised well over two thousand pounds for the charity. We were also able to enjoy the sun, some snacks and drinks to celebrate the end of our exams.
We took part in the Race for Life Schools' event because cancer is happening right now and we wanted to raise money and help save lives. 1 in 2 of us will get cancer. All of us can support the research that will beat it. Cancer Research UK's determination to beat cancer hasn't faltered and they're more focussed than ever on the ambition of seeing 3 in 4 people survive their cancer by 2034."