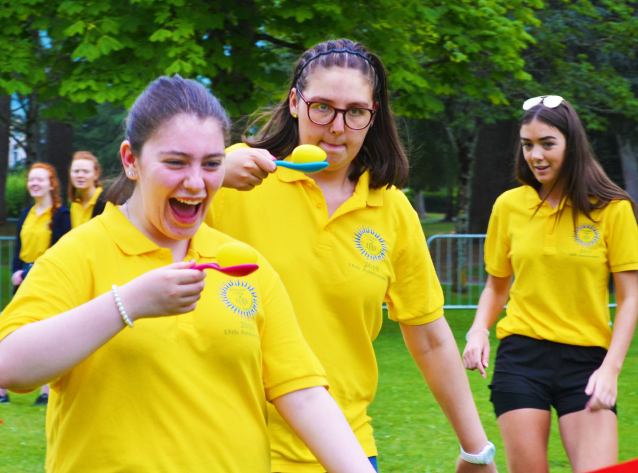 The College Lourdes group was founded in 2004 by Alastair Rankin, Julie McWilliams, and Fr Simon Bishop SJ. Julie McWilliams has led all fifteen of the pilgrimages and continues to be the chief organiser for our fundraising events. Since the first pilgrimage in 2005, over 750 members of the Aloysian Family have travelled to the picturesque town of Lourdes in southern France, where Saint Bernadette sighted the Virgin Mary on eighteen separate occasions. Each year, a group of young people with complex support needs are accompanied to Lourdes for a week by a team that includes pupils from S5 and S6; a doctor and nurse; a chaplain; and members of the College teaching staff. These pilgrims work tirelessly to provide the young people with an unforgettable trip - for some, the first time they have been on holiday, or have been away from their families.
During the eight-day trip, our pilgrims participate in a variety of memorable activities. These include a trip to the gorgeous town of Gavarnie, an alpine setting with breath-taking views of the Pyrenees; an excursion to the seaside resort of Saint-Jean-de-Luz with its miles of glorious beachfront and sparkling blue water; and the ever-popular (and highly competitive!) Sports Day and Talent Show events. Regardless of the activity, Spirituality remains at the heart of everything which we do. Group prayers are held in the morning and at night, with a Mass also taking place each day. There is much joy derived from our participation in events such as the beautiful Torchlight Procession, and the Mass for the Anointing of the Sick.
Each College pupil works as part of a pair who is assigned to look after one of the young people in our care. In order to prepare for the challenges, they could potentially face, the pupils undergo extensive training and preparation, including in-depth workshops on resuscitation and child protection. I cannot emphasise enough how hard these young people work to ensure that their child is looked after to the best possible standard. It is truly heart-warming to see them working in a different context to that which I best know them from - the classroom. They fully embrace and learn from the key tenets of the Ignatian Paradigm, those being Context, Experience, Reflection, Action and Evaluation. It is also wonderful to learn that many of our pupils keep in touch with their charges long after the pilgrimage has ended. They quickly come to appreciate just how lucky they really are, with many going on to do voluntary work for HCPT and St Margaret's Youth Group. For many of our pilgrims, this week in their lives becomes a life-changing experience.
The funds which we raise from charitable endeavours, such as our annual Lourdes Pilgrimage Dinner, play a vital role in enabling us to provide the best possible experience for the young people who we take to Lourdes. This money is needed to pay for medicine, excursions, accommodation and other costs which our trip incurs, such as the iconic yellow polo-shirts which always help our pilgrims to stand out from the crowd! We simply could not continue to run this pilgrimage without the heartfelt generosity of you, the Aloysian Family - from pupils and OAs to parents and friends of the College.
- Daryl Meechan, Head of S2