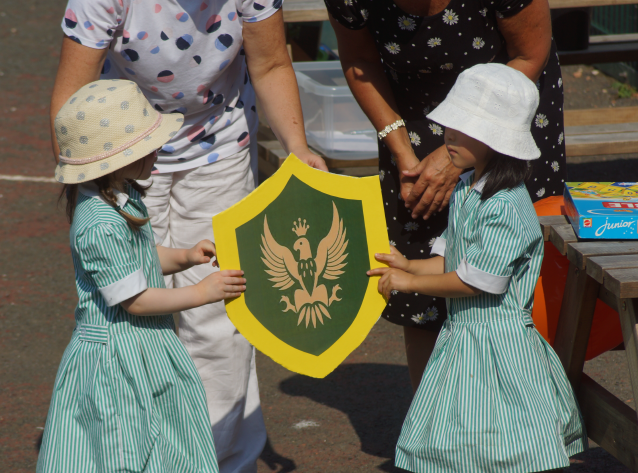 We've had an amazing first few days back at St. Aloysius' College. It has been wonderful to have all of our community back together, especially after the last 18 months that everyone has endured.
We started off this term by welcoming back all of our pupils and giving a warm welcome to all of our new Aloysians who are stepping into the Green Blazer for the first time. Seeing the sea of green take over Hill Street as everyone walked to their classes was such a rewarding sight – our Campus no longer sitting empty as it does during the Summer. Our Kindergarten – P3 pupils were welcomed back by a beautiful service from Mgr. Monaghan in the sunshine. By praying and singing hymns, the Early Years groups were brought together as one school community for the first time this term – strengthening them for the year of learning ahead.
It was an emotional day for parents and carers who were watching their young ones enter Kindergarten or Primary 1 for the first time. Everyone settled in great – and our P1-P3 pupils were soon introduced to their P7 buddies, who will be there for them and help them get settled in to life in the College. What better way to be introduced to each other than by enjoying some time outside playing in the sun?
Over in the Senior School, term started with some great news from our STEM students, who had been busy working over the Summer holidays. From taking part in JP Morgan's prestigious Virtual Work Experience Programme and Generation Tech competition, to winning the International Women's Day coding competition – there were successes to be celebrated all round. Read more about them here.
Everyone was excited to finally head off on our Kairos retreat after last year's was sadly postponed. This is such an enriching journey for our Aloysians, and a big part of school life that will no doubt stay with them after they leave. Most OAs will know what a cherished experience it is.
We were also delighted to introduce our new College Captains – who will lead the school in their fields. We can't wait to see what our new Head Boy, Theo McKenna and Head Girl, Eilidh Boyle, along with their team of Captains, achieve in their final year at the College. Congratulations to everyone who was appointed. Read the full list of captains here.
In Kindergarten, our new pupils joined us for a 2-day taster session before joining us for the start of term. It was so lovely to see everyone making new friends and discovering new interests. Our Kindergarten is definitely the start of something great!
It's also been great to see Art, Drama, and Music function to their fullest now that latest guidance allows. After so many months of not being able to act as a creative outlet for pupils – we love that we can now come together to express ourselves fuller and to act out our curriculum as intended.
Sports is back in full swing too, with our Rugby and Hockey teams busy training before the start of the season. You can check out some pre-season training photos over on our facebook and Instagram.
With the sun making a surprise visit to Hill Street this week – we've had a great start to the school year, and we can't wait to share more with you soon!
To stay the most up to date with all College updates, don't forget to follow us on our social media, as well as subscribing to our Eagle Eye emails. Sign up here.