17th October 2022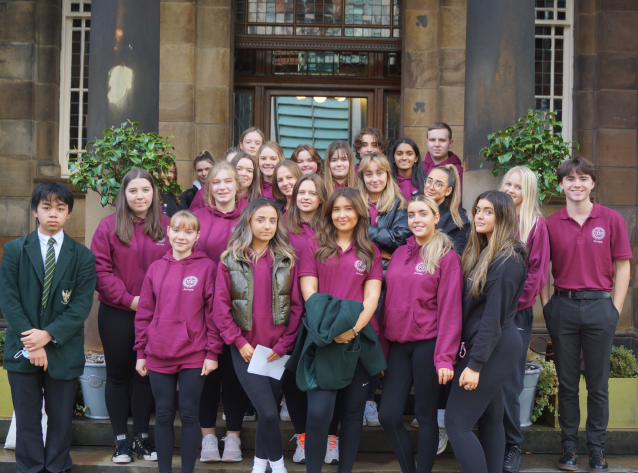 It may only be half-term, but our Arrupe class of 2022 has been hard at work on their placements. After COVID restrictions prevented us from doing so, it's great to be able to get back out into our local community. Every Wednesday they dedicate their time to the programme and do what they can to serve the needs of the community. Each week our pupils take something different from their experience of their placement, and always have positive things to say about what they have learned, and how they can support others further. We have gathered a few of our 2022 class' recent reflections to learn more;
Helen F. (S6)
"When I arrived at my placement, surprisingly, I was not as nervous as my peers and I was more excited to get started. When we arrived, we were given a tour of the school (it will 100% take me a while to get to grips with the twisting turning halls of the school!), and I was introduced to the class I was assigned to. As I entered, a small boy ran towards me, held my hand and proceeded to show me around the classroom. He then showed me his tent and urged me to enter and read his favourite book to him inside the tent. The class teacher briefed me on the schedule for the afternoon and encouraged me to read the individual risk assessment sheets on the wall for each child. I did so and managed to remember everyone's names and introduced myself to each of the children. The boy who ran to me stayed with me for the majority of the afternoon and I only got to interact with the other children briefly, however I hope to interact with them more over the next coming weeks. The staff were very lovely, welcoming and interested in my previous experience in support working, especially my competency in BSL and Makaton. I quickly understood the importance of visual aids and the pegs each member of staff had as well as BSL/Makaton. The afternoon followed the routine of music class, outdoor play time, relaxation and home time. Outside, the boy I was looking after wanted me to play with a specific toy with him, he really enjoyed it and was getting stimulated from the movement of the wheels on the toy. Unfortunately, the boy had a seizure and thankfully, due to being epilepsy trained, I was able to support him through the seizure alongside the class teacher. It was a scary moment; however, I was thankful for the support from the staff and my training. I'm very much looking forward to getting to know the small class and their teachers better over the next coming weeks and being a small part of their enriching experience at my placement."
Jonathan S. (S6)
"When I was told I had been assigned a primary school, I was nervous because the brutal honesty of children scares me a little bit. Going into the school and having all of the students wave at me and introduce themselves put me more at ease. I felt like a giant among the students, I never remember being that tiny but I must have been. Any distance I felt from the students was closed at the end of the day when we stood together to pray. It was touching to hear all the students pray with the same words I have been taught; it reminded me that wherever I am, I have a connection to the Church, even as a giant."
Saim C. (S6)
"Coming back, the first thing I did was sit next to a little girl and together, we played with a dollhouse. She was very eager to tell me about all of the dolls and what they were doing. When she went to get some snacks, I read a book to a young boy who then led me to a toy catalogue and sat me down next to him as he went through every page, telling me everything he both owned and wanted. I then went over with him to the sand pit where I made some sandcastles for him. Some other children joined in and a boy asked me to teach him how to make a sandcastle, so I helped him fill a bucket with sand and he tipped it over. Although it completely collapsed, he was still ecstatic and overjoyed that he had accomplished it. Seeing these children so happy and knowing that I helped put smiles on their faces, gave me a new sense of helping others and I consider myself very fortunate to be able to experience this."