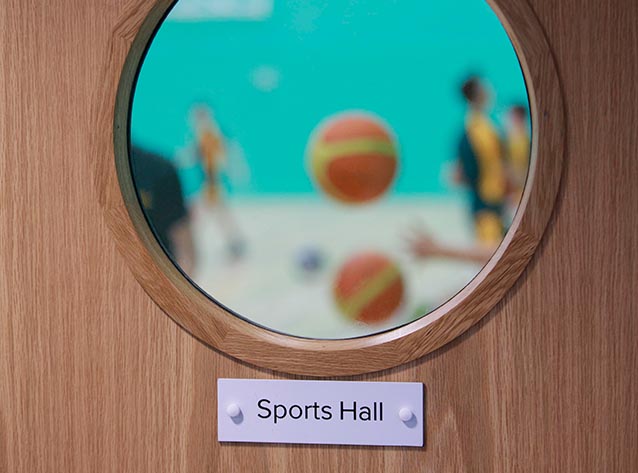 Sport at the College is an integral part of our young people's education. Our traditional sports are Hockey, Rugby, and Ath­letics but we offer a diverse, broad and exciting co-curricular programme, designed to suit all. The College participates in all major regional and national tournaments for Rugby, Hock­ey, Cross Country, Swimming, Golf, Athletics, and Football.
Our sports programme is designed to inspire and excite our students while improving their health and wellbeing, allowing them to achieve their full potential inside and outside the classroom.
Hockey
In S1-S3, pupils learn core skills including passing, travelling and tacking skills. From S1 upwards, pupils selected for teams will play 11-a-side full pitch matches during Saturday morning fixtures.
From S3 onwards, pupils develop their skills further through conditioned
exercises, competitive situations and specific drills. From S4-S6
pupils also take part in 11-a-side full matches on Saturdays, as well as
A-team tournaments.
Rugby
S1 to S3, we introduce a basic game plan, teach players to begin to scan for, and identify space, and introduce a basic strength and conditioning programme. We also begin to work on position-specific training and specialist skills.
At S4-S6, we now focus on learning to compete, and on developing performance. Each player is offered an individualised strength and conditioning program, which they complete twice a week. Video analysis is also used to assess the team. Mind skills training are also introduced at this stage, which produces confident individuals who perform consistently and to their full potential.
Basketball
S1 -S2 includes the S1 Team and the Under-14 Team. The S1 Team will compete in a number of friendlies and the Scottish Cup, while the Under-14 Team will compete in the Glasgow Schools League and the Glasgow Cup.
S3-S6 makes up the Under-15 Team, the Under-16 Team and the First Team. The Under-15 Team will compete in the Scottish Cup, while the Under-16 Team will compete in the Glasgow Schools League and the Glasgow Cup. Finally, the First Team will compete in all competitions; Scottish Cup, Glasgow Schools League and Glasgow
Cup normally competing 15-20 matches. The First Team has also had three recent trips to compete in tournaments in Gijon, Spain.
Athletics
Athletics is a popular co-curricular activity and we enjoy success on the track and field in the Summer months. We participate in all major competitions from District League Matches to Glasgow Schools and Scottish Schools events.
Strength and Conditioning / Fitness
Strength and conditioning and fitness are an essential part of our rugby and hockey training. However, both are on offer to all pupils. These sessions take place in our brand new sports facility.
Golf
We participate in all major competitions from St Andrews to Glasgow. We also host our own competition in school.
Badminton
Our Badminton club takes place in the new sports facility next door to the College. It is on offer to S1-S6 students. Pupils learn the rules and etiquette of the game, and have fun playing this popular sport. Badminton is also a major part of our core and certificated curricular programme, and pupils who attend this club benefit greatly from it in PE.
Football
Individual talent, skill and flair combine with organisation and teamwork in Football. At the College, football is very popular and we compete at the highest level in National Competitions. In 2018, the team were crowned champions at the Scottish Independent Schools Football Association Scottish Cup Final.
Cross Country
Cross Country is a core part of our curriculum and as such an essential co–curricular activity. We participate in all major competitions from District Matches to Glasgow Schools and Scottish Schools events. From August to March we focus on Cross Country events and host our own invitational match.
Swimming
Swimming is a sport that demands commitment, both physically and mentally. We participate in all regional and national competitions from Glasgow Schools Swimming finals to Scottish Schools Finals.