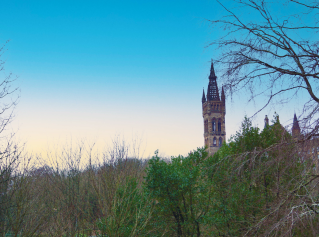 For all of our 160-year history, we have loved calling Glasgow our home. As Scotland's most populous city, Glasgow, like us, also has a firm foundation in faith - being founded by Christian missionary Saint Mungo in the 6th Century. The City Crest depicts the miracles of Saint Mungo, (the bird, the tree, the fish, and the bell), who was canonised and became the Patron Saint of Glasgow. The city's motto "Let Glasgow Flourish" – comes from the inscription on the bell of the Tron Church which reads "Lord, let Glasgow flourish by the preaching of the word". It is said that St Mungo used these words in one of his services.
Since then, Glasgow has flourished to become one of the most welcoming cities in the world, and we are very thankful to be a part of its history.
Our place in Glasgow's story begins in 1859, with our first school established in Charlotte Street, Bridgeton by the Society of Jesus. In the 1860s, the College relocated to our current home – Garnethill.
Garnethill is home to many Glasgow icons – including the Glasgow Film Theatre and the Glasgow School of Art. As well as housing our College campus, St Aloysius' Church and Scotland's oldest and first purpose-built synagogue, Garnethill Synagogue, are also located here. One of Garnethill's most interesting features are the Chookie Burdies – 150 pairs of metal bird sculptures that can be found on top of the lampposts lining the streets, showing the area's long affiliation with the arts and creativity.
We are located just off of Sauchiehall Street and Renfrew Street, making us close neighbours with the Royal Conservatoire of Scotland – one of the most renowned Performing Arts Education institutions in the world. If some of our pupils go on to study here, they don't have to venture too far from familiar ground.
Our campus is also a short walk from the Theatre Royal which Is not only the oldest theatre in Glasgow, it's also the longest-running in all of Scotland. Opened less than a decade after us in 1867, the Theatre Royal is somewhere we frequent on school trips to see the latest shows.
Today, our College still sits proudly as part of the diverse Garnethill community – with our rich history firmly rooted in Glasgow.