our values
Our History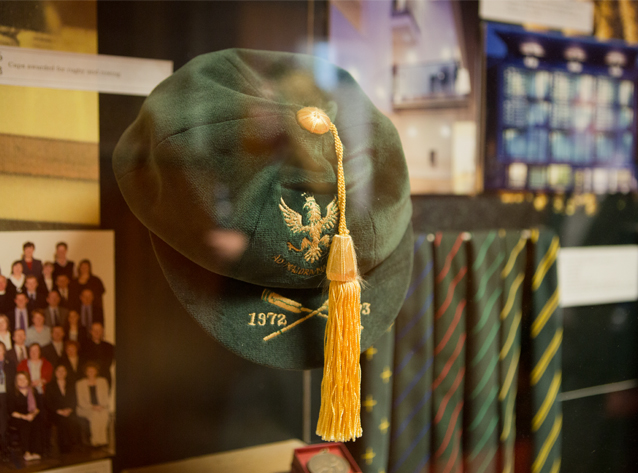 1850s
Founded in 1859 by the Society of Jesus to educate Catholic boys from in and around Glasgow
Original school campus was at Charlotte Street, Bridgeton
First school roll was just 25 pupils
1860s
Relocated main campus to Garnethill in 1866 with a roll of 70 and rising
Jesuits focused on enhancing the College's reputation as the educational institution of choice for Catholics in Glasgow
1870s
Numbers increased significantly in the late 1870s, largely thanks to Head Master Fr Francis Bacon SJ
Early 1900s
Fr Eric Hanson SJ arrived as Head Master, heralding a period of sustained growth in pupil numbers
The College also achieved significant success in public examinations
Fr Hanson SJ's tenure spanned a quarter of a century, during which he worked to assure parents of the value of higher education, establishing the College as one of the foremost schools in the country
By the end of his time at the College, the roll had reached 500 pupils
Parents were unable to obtain places due to swelling school numbers
Post WWII
College took steps to accommodate more pupils
Relocated Junior School in 1954, allowing for double the Primary School numbers whilst increasing numbers and improving facilities in the Senior School
1970s
College became a fully independent school in the final quarter of the century
The College took the decision to accept girls in 1979, key to establishing the St Aloysius' College of today
Early 2000s
With the 21st century came a sustained period of growth for the College and its campus
Construction of a state of the art Junior School Building
Addition of the Clavius Building for Maths, Science and Technology
Acquired the Convent of Mercy on Hill Street
Mr John Stoer was appointed in 2004 as the College's first lay Head and pupil numbers reached 1,250 boys and girls from KG to S6. He retired in 2013.
Mr John Browne was appointed in 2013 with a strategic vision for the College. During his time, he developed the Independent Safeguarding Commission, the Schola Foundation and the provision of a new Sports Facility, which is now complete.
And Now...
Head Master Matthew Bartlett was appointed in late 2016.