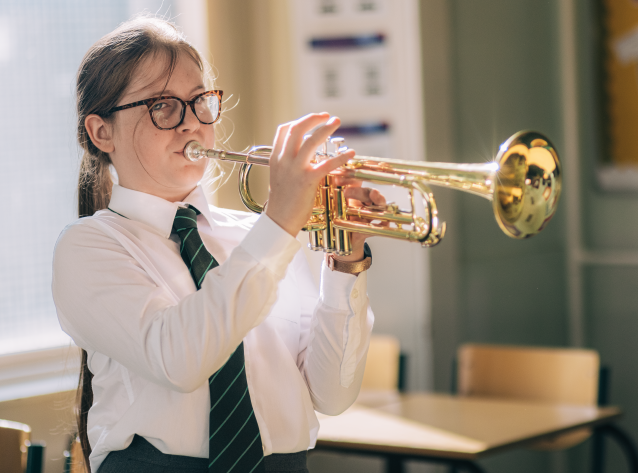 "The man that hath no music in himself,
Nor is not moved with concord of sweet sounds,
Is fit for treasons, stratagems and spoils;
The motions of his spirit are dull as night
And his affections dark as Erebus:
Let no such man be trusted. Mark the music."
The Merchant of Venice, 5.1.91-7
Music is an important part of the curriculum in all Scottish and Jesuit schools, promoting creativity, confidence, and self-expression. In addition, Music is a fundamental ingredient in all the public and set-piece occasions of school life, from liturgies to prize-givings and concerts.
Academic Music is delivered by specialist teachers as a standard part of the curriculum from Kindergarten through to S2. Thereafter, pupils select to study SQA certificated music courses from National 5 level through to Advanced Higher. Instrumental tuition is available in all orchestral instruments, piano, voice, guitar, percussion and bagpipes from a team of visiting tutors. Pupils are encouraged to sit external body Music exams including ABRSM and Trinity College.
The aim of the department is to provide an inclusive and accessible environment for pupils to experience music of all genres whilst maintaining a standard of excellence in performance, musical theory, and composition.
Music is a subject which transcends curricular attainment and our extensive co-curricular programme allows pupils to make a valuable contribution to the life of the College through their involvement in Choirs, String Orchestra, Wind Band, Jazz Band, Opera Group, Folk Group, and the School Musical. Our specialist choral training programme, Schola Cantorum, is led by our dedicated Director of Choral Music, Ann Archibald. The choristers work intensively throughout the week and make regular contributions to College liturgies and to the musical life of the Parish.
Video: Intro to National 5 Music
Video: Intro to Higher and Advanced Higher Music