5th March 2020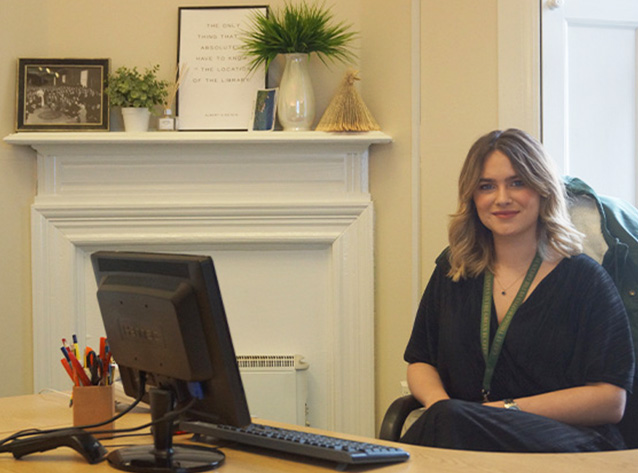 The Importance of Reading by Miss Lapping
There's a misconception that reading is a solitary activity. I think it's actually a great way to connect with others and gain different perspectives of life. World Book Day is just one example of how books can be enjoyed by everyone, irrespective of age or ability. Reading has been shown to help us improve vocabulary, reduce stress and sharpen our minds- among its many other benefits! At St Aloysius' College, there is an amazing reading culture and it's lovely to be a part of that.
In the Junior and Senior Libraries
Both our junior and senior libraries are largely pupil-led, with students picking out the collections, recommending new authors and exploring different genres. The libraries really are a reflection of the pupils. I think young people are more socially conscious than ever before and we've started carrying a lot more books that focus on social issues, mental health, and minority groups. It is impossible for me to match the expansive literary knowledge that the pupils display. However, luckily for me, there's always someone here who's willing to have a chat about books and try to keep me up to date.
Every week I'm blown away by the books that our Junior School pupils are reading. I've found myself discussing Dickens with 9-year-olds and have watched P4's create their own amazing comics after checking out Tom Gates. Over the last few weeks at the library club, we've spoke about the impact of Anne Frank's Diary, what jobs we'd have if we lived in Harry Potter's world and rated Murder Most Unladylike as the best crime series. There are no limitations to what they will pick up- something that makes my job a whole lot easier!
In the senior school, books that have been adapted into films and TV shows are really popular just now. While I am totally biased in my belief that books are better than their movies, watching something can undoubtedly be a really good gateway to discovering new authors and genres. Mark Twain said that 'classic' was a term used to describe books that people praise but never read, however, adaptations can make celebrated novels such as Emma and David Copperfield seem less daunting and it's great to see people get invested in them.
Recommendations
Early Years:
Julia Donaldson, Roald Dahl and Dr Seuss books are guaranteed to be full of fun and spark imagination. I also like biographical books such as Stories for Kids Who Dare to be Different by Ben Brooks, which can inspire and encourage us by telling us about our heroes' lives.
Juniors:
Books like Wonder, The Goldfish Boy, and The Boy at the Back of the Class are great, contemporary novels that teach us about kindness and embracing our differences. The Horrible Histories and Horrible Sciences collections are a fun way to get into non-fiction and help us make sense of the world around us.
Seniors:
There are so many diverse YA books, but some of my must-reads for older students are The Book Thief by Markus Zusak, The Curious Incident of the Dog in the Night-Time by Mark Haddon, To Kill a Mocking Bird by Harper Lee and The Colour Purple by Alice Walker.
My favourite book
It's hard to just pick one! I always think that the last book I've read is my favourite. Just now I'm reading The Sound and the Fury by William Faulkner and Do No Harm by Dr. Henry Marsh, both are fascinating in their own ways, but I think I'll be taking recommendations for something more cheery for my next read!