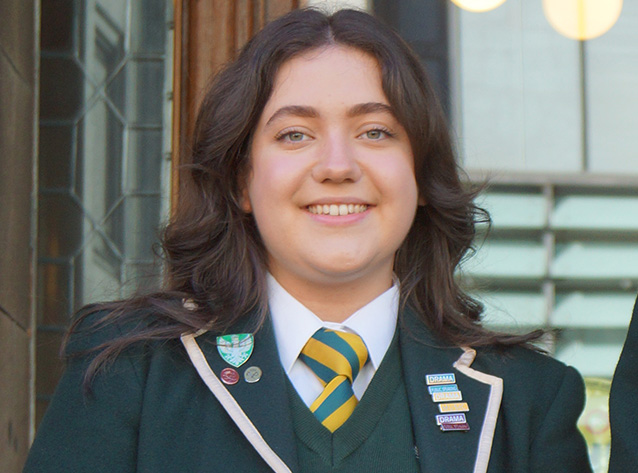 Written by Scarlett Morris
It's hard to believe six months have passed since I was appointed Head Girl. It was wonderful to receive the news and I felt very privileged to have been chosen from such a talented peer group. For me, it was a bit of good news after several months of covid gloom. I was also delighted at the prospect of working alongside an outstanding group of College Captains. I knew that we were to face many new challenges but I was confident that despite the hard job ahead, we had a brilliant team to support and work alongside Humzah and I.
For all of us, it's been a year like no other and there have been many challenges. While the obvious include social distancing, wearing face masks during lessons and not saying 'hello' with a hug, I think what many of us have noticed the most are the little things we used to take for granted in our pre-covid lives. I, like many pupils, miss our assemblies and the opportunity to gather as a Senior School to celebrate our successes, share our faith and come together as a community. I also miss our College masses where we would come together in a celebration of music and reflection to strengthen our faith and beliefs. This year, there was no opportunity to support our sports teams, attend after-school clubs, go on trips, or in my case, throw myself into the school musical. But what I now realise I miss the most is hearing our outstanding Schola choirs. Christmas just won't be the same without the annual Carol Service in our beautiful church.
However, it has not all been doom and gloom. We've found many creative ways to come together (while keeping our social distance) and nurture the community spirit so unique to St Aloysius' College. We've enjoyed quiz nights, movie days, virtual prize-giving and services from our Sodality Chapel. I'm very much looking forward to our virtual Carol Service this year, all be it without the mince pies and mulled wine!
As Head Girl, I am extremely fortunate to have such a unique opportunity to support, help and encourage our pupils in their aspirations for the future. Whilst the role requires hard work, dedication and a lot of commitment, it is incredibly rewarding and fulfilling to help make a difference, even in a small way.
The thing I enjoy most about my role is being able to reach out to younger pupils and make sure that everyone is heard and appreciated, especially during these times of challenge and uncertainty. Although I have not been able to address our College community in person, I'm grateful for opportunities like this where I can reach out to pupils, staff and parents alike. I hope that during my time as Head Girl at the College, I can inspire younger female students in their aspirations to make a real difference in the world.
Looking forward to my final term, with the prospect of a vaccine and saying goodbye to 2020, I hope that the new year will bring with it a renewed sense of hope and optimism. Let me finish by wishing each and every one of you a happy, holy and peaceful Christmas and the very best of luck to all students sitting Prelims in January.