OA
25th August 2022
Clavius Courtyard Officially Opened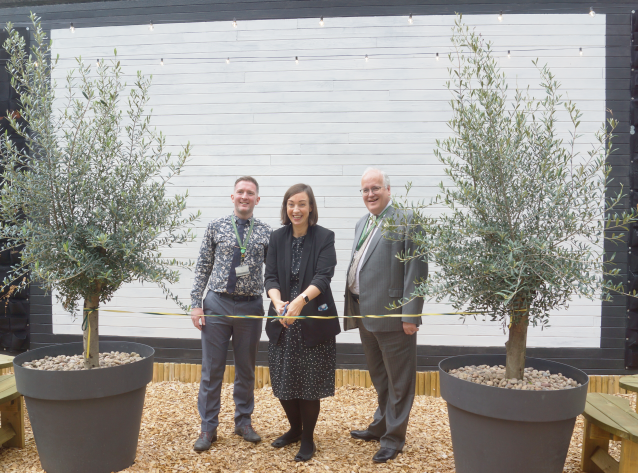 Today we were delighted to welcome OA Dr. Martina Rodie to our Campus to officially open our brand new Clavius Courtyard - 20 years after our Clavius building opened in 2002. This green space will allow our Aloysians to spend time outdoors and with nature, and provides an exciting new place where they can learn and socialise.
The courtyard project was fronted by geography teacher Mr. McLean, who along with a band of volunteers helped transform the space into what it is today. Weeks of hard work have finally paid off as the courtyard is ready for use - it is hoped that the College's Eco Club will be heavily involved in maintaining the courtyard as well as looking after all of the new plant life.
Recently, our new catering team from Holroyd Howe have set up a College wormery and herb garden in the courtyard, both of which will feature lots of involvement from the students.
Dr. Martina Rodie added:
"I developed a love of science when I was a pupil of St Aloysius' back in the 90s. I had several inspiring teachers who encouraged me to follow my dreams of becoming a doctor and a scientist. The school's facilities have always been excellent and it's really hard to believe the Clavius Building is 20 years old. On behalf of the Aloysian Association I'm delighted to support the opening of this beautiful courtyard right in the heart of the maths, science and technology departments. I hope many friendships are fostered here and future STEM academics can be nurtured, inspired and encouraged."
We give thanks to The Aloysian Association for their donation to our Green Spaces for Green Blazers initiative that made this possible.