Community
23rd August 2022
Clavius Courtyard Transformation!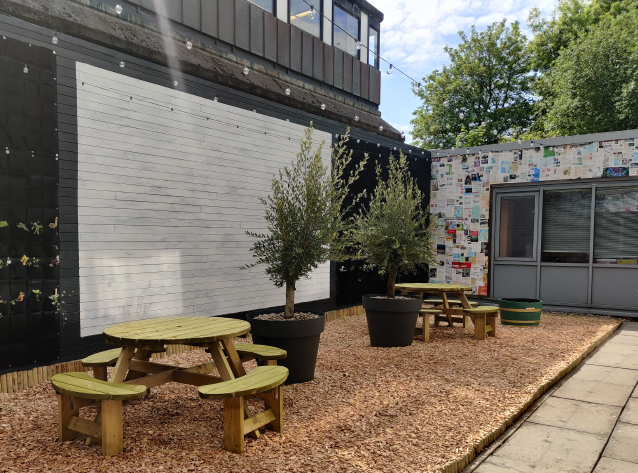 An amazing transformation has taken place in our Clavius Courtyard thanks to Mr. McLean and his band of volunteers. What was once an empty outdoor space is now a vibrant, colourful, and welcoming courtyard where our young people can spend sunny days with their friends.
After weeks of hard work - the courtyard was transformed and is now ready for use for the beginning of term next month. This new social space will provide our Aloysian community with the means to relax, talk to friends, and make new ones. It is a great addition to the school, especially after almost 2 years of COVID restrictions prevented some young people from getting to spend time with others.
The garden during works.
The project began to take shape a few years ago, when our current S5 pupils were in S2. Pupils designed an outdoor garden space for the College campus - which then went on to win the Pupils' Choice Award at the Royal Horticultural Society's "Green Plan It" competition. When COVID struck, the project had to be put on hold - but when restrictions started to ease Mr. McLean set to work to bring the design to life. Mr. McLean added:
"This project has seen the courtyard transform from an unused and unloved space to a tranquil, attractive, and desirable space for both staff and pupils alike.
"Nature and education meet hand in hand, and this courtyard allows our staff and pupils to engage with it in our own corner of the concrete and tarmac of Glasgow city centre."