Community
23rd June 2022
New Art Mural on The Hill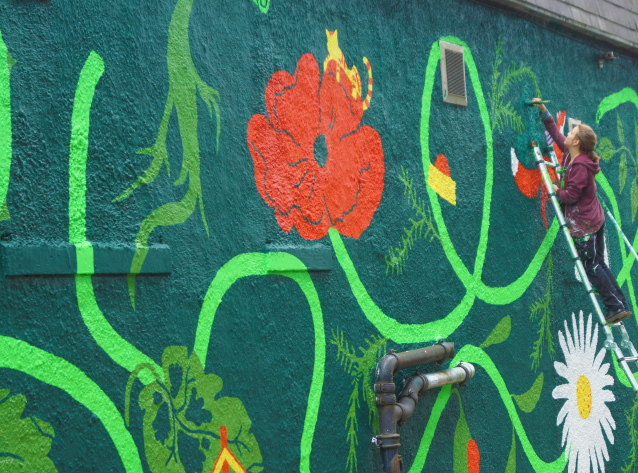 If you've been visiting Garnethill recently, you might have seen something interesting going on in Reid Lane – between our College's Main Building and the Glasgow School of Art.
For the past few months, we've been working with the Glasgow School of Art and local artist Ida Henrich, who specialises in mural design and illustration, to bring Reid Lane to life with an exciting new artwork. Our Seniors spent some time with Ida in workshops at GSA, as did the local community, to help share what they loved about Garnethill. The mural is dedicated to "Care for Our Common Home", which reinforces our College values of looking after our world and everyone in it, as well as our Junior School's commitment to being a Laudato' Si school.
It was soon time to put brush to canvas, and it was a very big canvas indeed. Over the next few weeks Ida brought the design to life with beautiful colours, depictions of wildlife and celebrations of Garnethill. Some of our Seniors even donned their overalls to lend a hand with the painting.
We hope that this mural will not only bring smiles to people walking through Garnethill – but also inspire those in the community to take care of the wildlife and green spaces. The mural is now also included as part of the Glasgow City Centre Mural Trail, which features famous artworks such as the Billy Connolly murals.
We have learned so much in our time working with Ida and the Glasgow School of Art, and now each time we walk past our building we will be reminded of all of the amazing work that went into producing something so wonderful.
Commenting on the mural, Head of Art and Design at the College Carol Hutchison added;
"In preparation for COP26, our young people created and presented ideas on climate change across different creative platforms such as film, sculpture, poetry and sound. Our unique position as a Jesuit school in the heart of Garnethill and Glasgow, allowed us to form meaningful partnership links with film makers, ceramicists and artists from across the city. The mural project, in collaboration with GSA, gave our young people a wonderful opportunity to further their own creativity whilst enhancing the local area. The experience of working with Ida in the planning and production of this mural gave our young artists invaluable insight into the creative process and the colourful and engaging mural, inspired by the natural world, has significantly improved the lane. Our young people have felt a real sense of achievement and fulfilment in working with Ida and GSA and in gifting this fantastic mural to the local community."
Headmaster Matthew Bartlett also commented;
"We are thrilled to have worked with our neighbour, GSA, on this wonderful and important piece of work. Our young people have relished the opportunity to collaborate with a professional artist and see their vision come to life. The fact that this project has also contributed to our wider community here in Garnethill is fantastic. As a school, it is our job to ensure our young people are aware of the issues around global warming and feel empowered to enact change. I am proud to have such creative, driven and socially-conscious pupils within our school. I would like to thank those pupils and our Head of Art and Design, Carol Hutchinson, as well as GSA and Ida for contributing to this wonderful mural that now decorates our building. We are very fortunate to be positioned in the City Centre next to a number of highly regarded institutions, including Glasgow School of Art, and I look forward to further collaboration in the future."