OA
Senior
20th September 2022
OAs Return to College to Give Careers Advice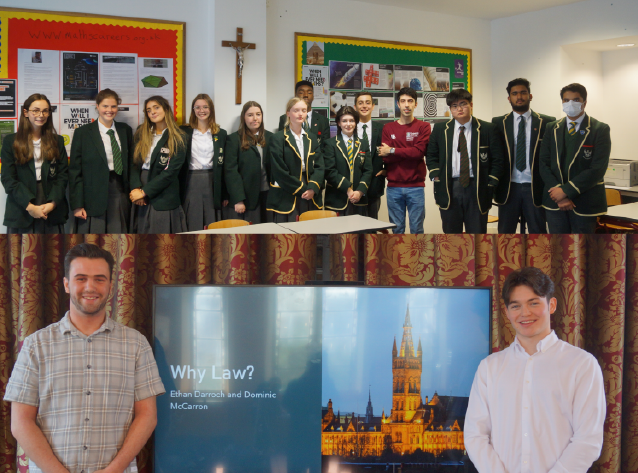 Recently we have been very thankful to have three OAs visit us to speak to our current Aloysians about their career after the Green Blazer. We have been treated to two very interesting talks on medicine and law, which are sure to inspire our pupils and help them get to achieve their career goals.
Firstly, we were visited by Dr. Jimmy Bilan - who attended the University of St Andrews Medical School before going to Glasgow University. Dr. Bilan recalled how advice from Mrs. Sciallo (Head of Careers at the College) helped his application to university, which led to his career today. He also described the student life at St Andrews and offered valuable insight to what his day was like as a Y1 junior doctor, a role he said required resilience, adaptability, problem-solving and quick judgment. We are sure that Dr. Bilan has inspired some of our current pupils to follow in his path of medicine - a field which he described as a lifelong journey of learning.
Next up, our History and Modern Studies department were delighted to host a Law Talk delivered by two OAs, Ethan Darroch and Dominic McCarron (2019) Both are studying Law at Glasgow University and were able to offer excellent explanation and advice to our S5 and S6 students on applications and prospective career avenues. It was very interesting to hear about their law journey so far, and lots of our pupils had questions to ask about how to get started in what can often be seen as a very competitive field.
We are very grateful to Dr. Bilan, Ethan, and Dominic for their time and insights.