OA
17th January 2023
OA's Ukrainian Voluntary Work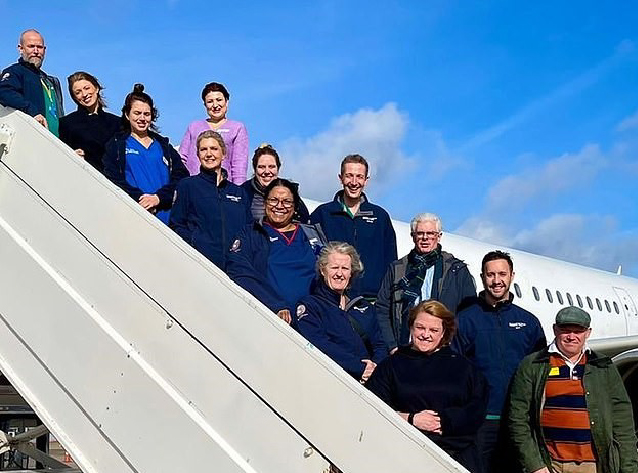 OA Dr. Martin English (1981), Clinical Lead for Oncology at Birmingham Children's Hospital, recently spoke with AMDG Magazine about his involvement in the transfer of Ukrainian families with children suffering from cancer to hospitals across the UK.
One Friday evening in early March, Dr Martin English received a text from his Chief Medical Officer, asking what capacity he had to take additional patients into Birmingham Children's Hospital, as some children with cancer needed to be transferred urgently from Ukraine. Nine days, several hundred emails and quite a lot of "Teams" meetings later, Dr English and his colleagues from across the UK boarded a plane to Poland.
The plight of Ukrainian Children with cancer prompted efforts from medical staff, charities, hotels, translators, train and bus companies, air crews, the NHS in all four home nations and UK Government departments, resulting in the mobilisation of Paediatric Oncology centres ready to take seriously ill children and their families, as Dr English told us:
"The global network dealing with cancer in children is very strong and includes organisations across Europe and the USA. The Ukrainian Children's Cancer Centres were sending convoys of children and family members to safe places for treatment – mainly Poland. It was rapidly clear that the Polish Health Service could not accept a doubling of patient numbers overnight and it was necessary to move children quickly to units where they could be treated in other countries as well. Within the first week of the war, the Global Outreach Programme from St Jude's Children's Research Hospital in Memphis Tennessee set up 'The Unicorn Clinic' to triage the convoys when they arrived. They partnered with the European Society of Paediatric Oncology and Parents' Organisations to send messages to the larger children's cancer units across Europe asking if they could take some patients.
"To get to the UK we needed to sort out visas etc., and arrange to fly the families over, which was co-ordinated nationally, with Government departments, the NHS in England, Wales, Scotland and Northern Ireland and individual children's cancer units, as well as many other official and charitable organisations collaborating to make it happen. It was arranged for the UK to take one convoy and we flew over to Poland. The children and their families were taken to the airport by bus and we took over their care from there.
"We had two fantastic interpreters on the plane and the cabin crew were also wonderful. Many of us had already loaded Google Translate on our phones which helped too. On the ground we had other interpreters, some of whom were volunteers.
In the first 12 weeks of the war, 949 patients were evacuated to 19 countries in Europe and North America, with Poland, Italy and Germany taking the largest proportion of children.
"Many units were co-operating and offering help. For the transfer in the UK, we had the amazing Southampton and Oxford Paediatric Retrieval Team – Intensive Care Doctors, Anaesthetists, Nurses and Technicians who are used to transporting critically ill children, including those needing ventilation. We also had two wonderful Interpreters, and from my hospital two incredible "Play and Youth Therapists". Including the latter two raised some official eyebrows, but the clue is in the 'Therapist' part of their title. They specialise in helping children and young people cope with scary strange situations – and they were fantastic!
"Once in the UK, the ambulance service transferred the children from the airport. A suitable central hotel near the airport and close to the motorway network was taken over. Hot food was available for the children, their parents and siblings. A team of Doctors, Nurses and Administration Staff from Birmingham Children's hospital were based in the hotel. All the children were examined by a doctor and any immediate health needs identified. One child became unwell overnight and was admitted directly to hospital.
Read more from Dr. English in AMDG Magazine: https://bit.ly/3WdvMJX