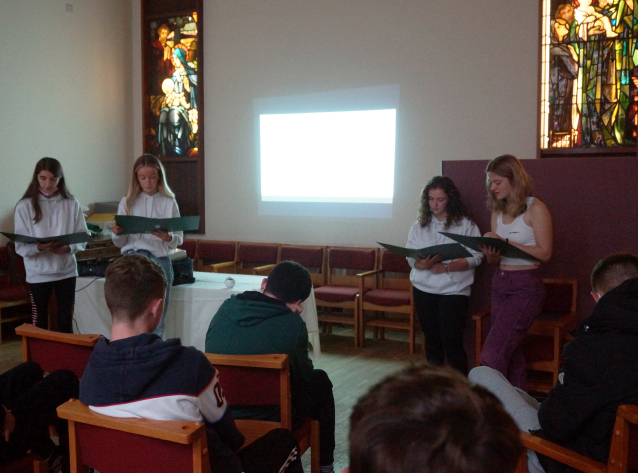 After 18 months of restrictions preventing us from coming together, we are very thankful that our retreat programme has been able to recommence over the past few weeks. Most recently, our S6 leaders led our S4 Retreat at Renfield St. Stephen's – the topic being Finding God in Others. We spent some time with our pupils at one of their retreat days, and got to know what it is about them that makes them so special.
Our day began with some icebreaker games, before splitting up into our groups that we would be with for the remainder of the day. On retreat, it is important to give as much as you possibly can to the experience - as the more you put in, the more you will get out. Following our Examen and a Lectio Divina – we were treated to our first talk from one of our S6 leaders. In line with our theme, we were looking at finding God in family. This inspiring talk highlighted just how important family can be, and how they must always be treasured. We learned that God's love can be found everywhere, and this starts at home with our own family.
A brief break – and we were back in action. This time we were looking at finding God through friendship – as we can often view our friends as members of our family. We also listened to some songs like Lean on Me that reminded us of those in our lives who are always close to us.
A rather tricky general knowledge quiz followed lunch – before we were treated to a beautiful Mass by Father Eric SJ. We loved finishing off the day peacefully with our classmates – reflecting on the things we had learned throughout the retreat.
Mr. McBride, Director of Christian Formation, shares a few thoughts about the retreat days:
"The S4 retreats were a wonderful opportunity for our pupils to deepen their awareness of how God is at work in and through those closest to them. As ever, our S6 Leaders were exceptional: leading by example and assisting throughout the day, delivering Pupil-led talks/presentations, and leading us in moments of prayer and meditation. A nice occasion during the day was sharing a Dominoes lunch together courtesy of the College! But, the highlight of the day was finishing with a lovely Mass presided over by Fr Eric Studt Sj – thank you to Fr Eric for celebrating Mass at all four retreats."
Our retreats help our pupils to grow spiritually as individuals – but also to get to know each other better and to understand and respect their peers. We are very thankful that we can take our young people on these spiritual journeys – allowing them to develop themselves into men and women for others. It's obvious they mean a lot to our young people, with a few words from Nicholas T. (S4) highlighting this;
"My favourite part of the S4 Retreat was getting to spend time with my friends outside of school. The guided meditations and leaders talks were good too, especially listening to the struggles of older pupils and how they got through them and found God in time of need. Rhuraidh was a good leader and he made us feel like a group and gave us stuff to think about."