Whole School
7th March 2019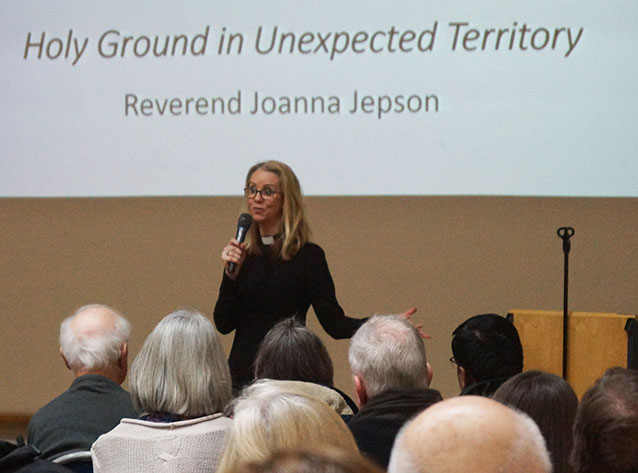 Romero Lecture by Reverend Joanna Jepson
Faith and Values
"What would you do if the worst thing you had done in your life is what you're known for the rest of your life?"
This was the opening question from Reverend Joanna Jepson, guest speaker at our annual Romero Centre lecture this week - Holy Ground in Unexpected Territory
Rev. Jepson is a renowned broadcaster and author, as well as an Anglican Priest and former chaplain at London College of Fashion.
During the evening, Rev. Jepson shared her experience of working at Louisiana State Penitentiary, better known as Angola and regularly referred to as 'Alcatraz of the South', 'The Farm', or 'the bloodiest prison in America'. Angola is the largest maximum security prison in the United States where many of its prisoners are serving life sentences without the prospect of release.
Rev. Jepson discussed the work of former warden of Louisiana State Penitentiary, Burl Cain. During his tenure, Warden Cain, a devout Christian, implemented a range of improvement programmes in the hopes of encouraging a community of spirituality and morality to support rehabilitation. He created a branch of the New Orleans Baptist Theological Seminary and prisoners became pastors and prison missionaries, visiting other prisons to help inmates through religion.
Rev. Jepson pointed out that violence in the prison had been reduced by an astonishing 70% and for the first time "prisoners weren't known for the worst thing they had ever done. For the first time ever they had a purpose".
The prison also has a number of programs for incarcerated fathers including the Returning Hearts Day where fathers spend the day with their children at a fun day within the prison, and the Malachi Dads, a year-long programme using the bible as a basis to improve parenting skills. This is based on Malachi 4:6, "He will turn the hearts of the fathers to the children, and the hearts of the children to their fathers ..."
Rev. Jepson was specifically at the prison to work on a programme that took non-violent prisoners on a two-year programme of rehabilitation. Where they previously may have had a 10 to 20-year sentence, they would choose the two-year programme and were mentored by one of the prison pastors and taught a trade. They would then be released into a church community and return to the prison to be mentored. The reoffending rate of prisoners on the programme was just 12%.
The culture of faith and rehabilitation at the prison pathed the way for similar reforms in other prisons across the States and Reverend Jepson is now working with the British Army to see how the programme can be adapted to help our young soldiers.
Thank you Reverend Jepson for an interesting and thought-provoking evening.
We're now looking forward to our Gonzaga Lecture Series running 7pm on the 12th, 19th, and 26th March at Royal College of Physicians and Surgeons, Glasgow. Our guest lecturers are:
12th March – Fr Stephen Reilly: Co-ordinator of Spiritual and Pastoral Formation, University of Glasgow
19th March – Dr Sohaib Saeed: Muslim Chaplain, University of Edinburgh
26th March – Fr Geoffrey Wheaton SJ: Lecturer of Art and Scriptures. Former RC Chaplain Imperial College London University