Life in the Green Blazer continues long after life at school is over. No one knows that better than Catriona Langan, who left her Green Blazer behind as a pupil some years ago, but has come full circle to help form the boys and girls who wear it today.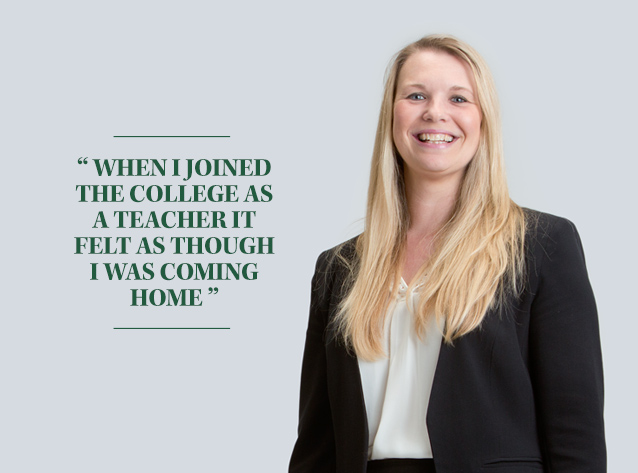 "I have a pretty special connection to St Aloysius' College," she beams. "I was a former pupil at the school, I met my husband at the school. Now I'm lucky enough to be a teacher here – and to top it all off, my two children go to St Aloysius'.
"I suppose you could say that it's less of a school to me, it's more like a huge and important part of my life. So much so that when I joined as a teacher, it felt as though I was coming home."
Mrs Langan is not alone in her lifetime bond with the College. Many of its teachers have been educated there, been married in St Aloysius Church and watched their children grow into men and women at 45 Hill Street. Some have bonds with the College that go back decades and generations.
So what it is that makes that lifelong journey as an Aloysian so special? Why are so many of our families part of a long line of ancestors to have been educated on Garnethill?
"Without a doubt it is the ethos," she says. "There is an incredibly strong feeling of community that I just don't think you get anywhere else. Whether you experience that as a pupil, a parent or even as a teacher, it never changes. It's a very friendly and genuine feeling too – there is nothing false about it. We welcome entire families into the College, we have Grandparents day, celebrate siblings and other family members – at St Aloysius' we know just how important it is to be a family school."
Of course, at the core of the Aloysian community are its pupils, and the opportunities the College offers them. It is how they use their gifts whilst wearing the Green Blazer that helps them achieve as an Old Aloysian, and hopefully see their own children wear one in the days to come.
"One of my favourite aspects of the school is how committed it is to looking after each child's God-given gift," Mrs Langan explains. "It means that each child gets the individual attention that they deserve to make the most of their skills. It makes such a difference. There are a lot of opportunities for the children, allowing them to grow and develop in different ways. You can tell that everyone within the school embraces the ethos and the values, you can feel it throughout the school.
"It is just such an amazing place, full of energy and positivity. And that goes for the pupils and the teachers. I couldn't recommend it highly enough."