Every school has characters, and St Aloysius' is no exception. Frank McHugh's personality is infectious and full of fun. He wants children to find the joy in learning, whilst knowing what it truly means to wear the Green Blazer.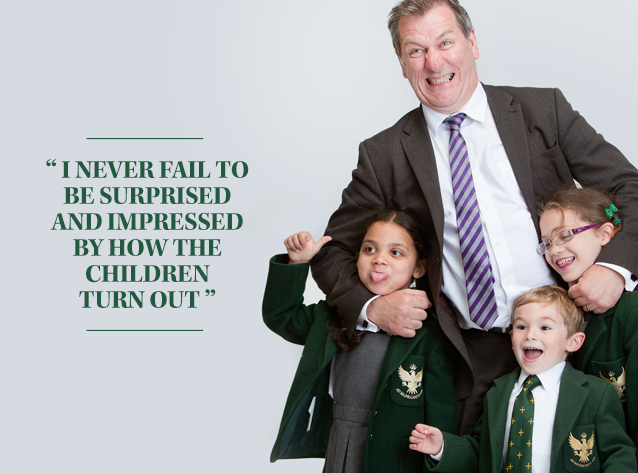 "This is my 18th year at St Aloysius', so it's fair to say I know a bit about the place," he tells us. "There is obviously a strong focus on academic excellence and supporting pupils to gain the very best results that they are capable of. However, the school is about so much more than that. It's not just about academic success, the school has a unique ethos."
Fr Pedro Arrupe taught us that as a Jesuit school, the prime educational goal should be to form men and women for others. He believed that love shows itself more by deeds than by words, which is why Mr McHugh believes that a Jesuit education would be incomplete without formation of the whole person who will do something with their gifts.
"As the children are in a privileged position they are taught to appreciate this and the importance of using your God-given talents to serve others," he says. "This is woven throughout the curriculum, co-curricular activities and many other aspects of school life. It's the reason that you work hard, it's behind everything that we do."
A drama specialist with a wicked sense of humour and wit, Mr McHugh most definitely uses his talents to the benefit of his pupils, and that passion for education and teaching is something he believes is distinctive to the College.
"I think the key to the school's success is in the close relationships between the staff and the pupils, it's what makes St Aloysius' special," he explains. "It all comes from the ethos and the fact that all pupils and staff strive for excellence in all that they do, it really shines through."
In striving for that excellence, however, the boys and girls do not lose sight of one another's achievements. In fact, they are encouraged to celebrate them and, in the spirit of the Magis, to use it as motivation to continue to do more themselves.
"The school is steeped in the Jesuit ethos and you can see the benefits of this in the way the children behave and in the support they give to one another," he says. "One thing that really stands out is how they celebrate success with their peers, it's a great thing to see and really inspiring as a teacher. It's really rather special to come to work every day in that sort of environment.
"I never fail to be surprised and impressed with how the children turn out. It's a real joy seeing them come through the school and turn in to real capable men and women. As they go out in to the world to make use of their talents, it makes you very proud watching them grow."