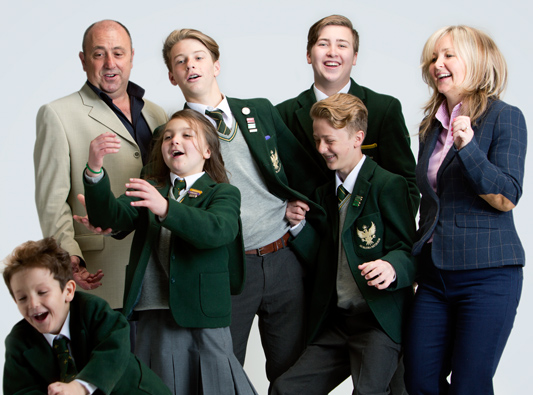 With five children at the College, ranging from Kindergarten through to Senior 6, Mr and Mrs Vezza know a thing or two about life in the Green Blazer.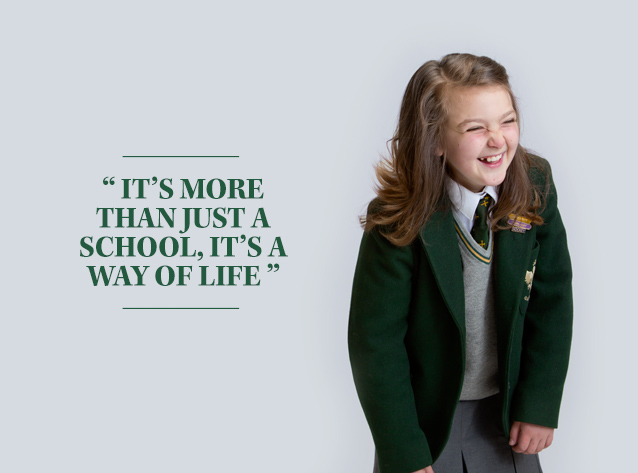 "As soon as our eldest, Vittorio, started at the College, we knew that it was a special place," they tell us. "We were initially attracted by the fact that St Aloysius' was a Catholic school, but as we soon discovered, it's much more than that, it's an ethos. It's more than just a school, it's a way of life."
As a family of seven, the Vezzas are extremely close. Spending a day with them in the studio, taking pictures and reflecting on the family's Green Blazer story, it is clear that they know and care very deeply for one another. Which is why they appreciate the fact that the College is part of a wider community, where you are not only seen, but known and nurtured.
"As a family, it means a lot to us that the College is part of a community. There's a real camaraderie between the pupils, parents and teachers. Even the janitors get to know each of the children.
"It is so reassuring to know that your children are known and cared for from drop off in the morning until pick up at night. Everyone knows everyone, it's like a big family and it's great to know that there is always someone looking out for your children."
Life in the Green Blazer hasn't always been easy for the Vezzas, just three years ago their daughter Sofia was diagnosed with leukaemia and had to take time out from school. "It was a tough time," recalls Mrs Vezza, "But I was lucky that my husband could take care of the boys while I was at hospital with Sofia, he was amazing. But what also struck us was how much the College community reached out to help. Once Sofia was back on her feet they even helped her organise a concert to raise money and give something back to Yorkhill. She has some fantastic friends. It was a proud moment for us."
With five children, it can be difficult to find a school that can truly bring out their individual talents and challenge each child, particularly when they are on varying levels academically. So how does the College provide for that, we ask.
"The school focuses on getting the best out of each pupil's special talents," Mrs Vezza tells us. "Really taking the time to get to know what they are good at and truly treating them each as individuals - something that you don't always find at other schools.
"The biggest compliment we can give is that when people meet our five kids, and when we meet others from the school, you are really taken aback by their spirit, personality and values. You really can tell that they have had an excellent education. Vittorio is going into Sixth Year and doesn't want to leave – imagine that!"