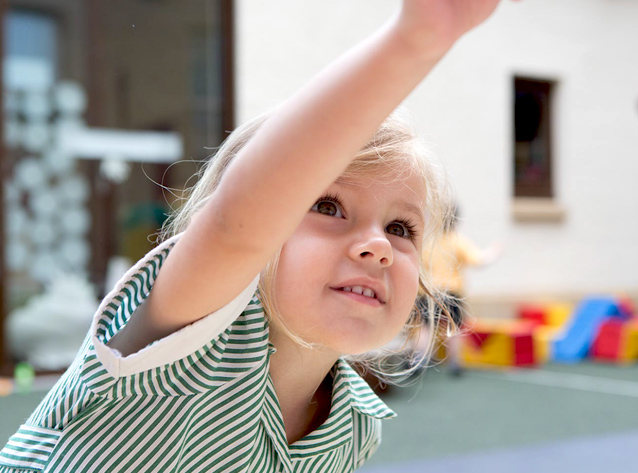 "Kindergarten is an opportunity for children to associate happiness with learning…"
Our Kindergarten provides a loving and caring learning environment, in which our pre-school children are nurtured to take ownership of their own learning in preparation for Primary One – their first day in the Green Blazer.
Children are given the time and space they need to be children, they are free to play, explore and imagine. Through recreation, the children begin to find what they are good at and what they enjoy. These creative experiences increase their confidence, motivation and curiosity in preparation for life in the Junior School. Kindergarten is an opportunity for children to associate happiness with learning.
Our pre-schoolers are able to develop at their own pace, as they begin to discover where their personal talents lie. The elements of Jesuit education are prominent even at this early stage, as the syllabus is focused on the child rather than the material to be covered. Kindergarten pupils receive specialist teachers in Art, Music, PE, Science and Modern Languages, as staff look to aid their imaginative, creative and emotional development.
Through play the children also learn to interact with their peers within a caring and respectful environment. They share fun and learning with one another in a way that develops their social and interpersonal skills, as well as their problem solving, language and creative knowledge. They begin to understand the importance of caring for and helping one another, as they start the formation of becoming men and women for others.
Kindergarten pupils learn to communicate more effectively with adults. Each child has a key worker who monitors his or her own progress and who checks in regularly with parents to keep them updated on the milestones in their child's Kindergarten career. The boys and girls are taught how to reflect on their learning, as they become more independent.
All of these factors have one common goal – to prepare our pre-schoolers as they begin their journey of discernment, which we hope will become a fulfilling adventure in the Green Blazer.