Not everyone starts their Green Blazer story in the Kindergarten. For some pupils, like Cait Murphy, changing school is a daunting prospect, but one she tells us pays off.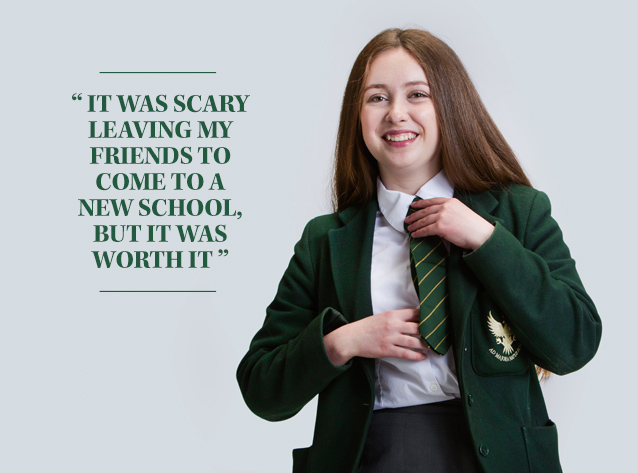 "I joined the College in First Year," Cait says. "I have to admit to being a bit nervous about it, changing school is a big deal. It was pretty scary leaving my friends to come to a new school, but it was worth it.
"Before I had my official first day at St Aloysius', there was a chance to meet the people that would be in my class. The Orientation Day was so worthwhile and I was made to feel completely welcome by everyone. The best thing was that although there were some people who had been here forever, there were others like me who had come from other schools. It made my first day so much easier."
At St Aloysius' we want pupils to feel part of the community, that's why we tailor the admissions process to help make the transition from school to school a seamless one. Aside from Orientation Day, we also offer Taster Days for prospective pupils. This is the perfect chance to be an Aloysian for the day, and as Cait tells us, a day at 45 Hill Street provides plenty of variety.
"Being based in the centre of Glasgow is really exciting," she says. "Especially as we get to go out at lunch time in S5 and S6. It's a special campus, I really love the buildings and moving around each of them. It gives you a chance to work in different environments, old traditional buildings and new, more modern ones. It makes you feel more independent, responsible."
One building Cait spends a lot of time in is the Mount Building, one of the College's most historic facilities – and home to the Music department. "I play violin," says Cait. "I love music, so it is important to me that the school is so supportive of that and makes sure there are lots of opportunities for people to take part in music in some way. There are so many orchestras and bands."
As a Jesuit school, the College ensures the pupils use their God-given talents to help others. The Jesuit ethos underpins everything both inside and outside the classroom, meaning religious and spiritual formation is not added to, or separate from, the educational process. Through the retreat programme, pupils are given the chance to combine the two.
"Aside from academic studies, we have the chance to try new things in different ways. I was recently a retreat leader," Cait tells us. "I took a group at the S1 retreat on the theme of creation. It was really challenging but very interesting, I think it's important that we are given ways to try things we would never have considered doing, which benefits our learning but also gives others new learning opportunities, like the S1s at the retreat."