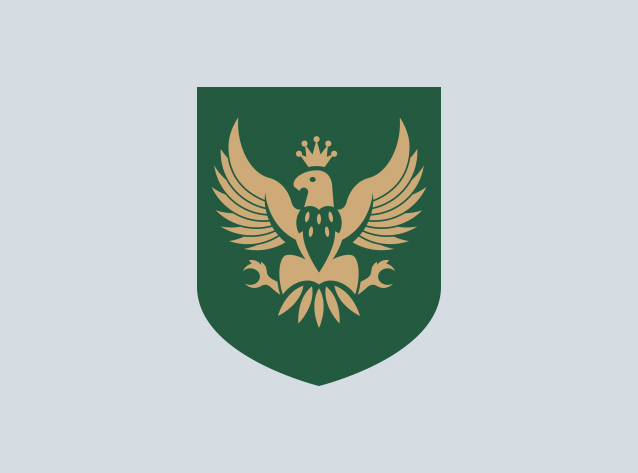 The Green Blazer is not the only iconic image of St Aloysius' College. The Gonzaga Eagle, as featured on the Blazer pocket is a key part of the College identity.
The Gonzaga eagle made its first appearance at the Christmas prize Giving of 1903. It was taken from the Coat of Arms of the Gonzaga family, the crest of St Aloysius' Gonzaga, after whom the College was named. The Coat of Arms features four imperial eagles, as granted to the Gonzagas in 1433 by Holy Roman Emperor Sigismund himself.
The original Glasgow version of the Gonzaga Eagle was designed by Garnethill artist Jessie McGheehan, who also designed the magnificent mosaic stations of the cross in St Aloysius Church. The original eagle, perhaps symbolic of Glasgow's western location, faces left.
Over the years the details of the McGheehan eagle were diminished by retraces and reproductions and the issue was documented in the College magazine of 1945 where it was asked that all versions be gathered and bound 'into bundles to burn those that were gravely deformed from the original'. However, the issue was not addressed until some 50 years later.
Various other versions of the College Eagle have punctuated the last 20 years, including a special version commissioned to mark the College's sesquicentennial celebrations in 2009.
In 2015, the College felt it was appropriate that our logo be brought in line with our innovative, modern approach to education. As such, our new logo is contemporary, progressive and above all else, symbolic of our academic purpose. The College motto 'Ad majora natus sum' remains, to ensure our history is evident as we continue to evolve as an education institution and community.