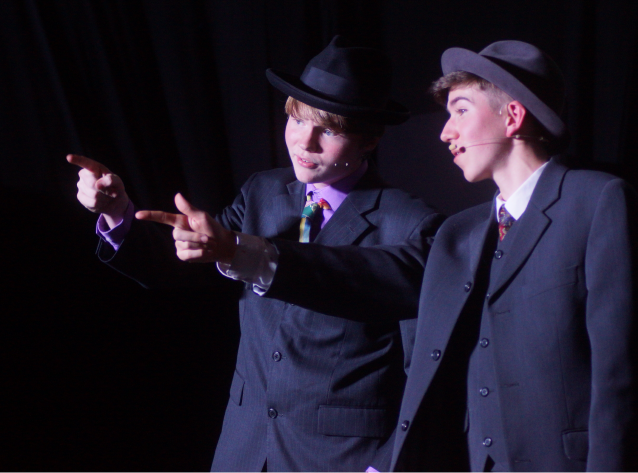 "What is drama but life with the dull bits cut out." Alfred Hitchcock
The Drama Department is located behind the Mount Building in a purpose built room furnished with a specialist stage lighting rig. There are also a plethora of props and costumes that can be used by pupils to enhance their portrayal of characters in the performances they create during their lessons. Pupils complete a twelve week Drama rotation in S1 when they will be introduced to the key elements of performance and are then able to opt to study Drama in more depth further up the school. We have a large cohort of senior pupils who are studying Drama this year and they are enthusiastically working towards their N5, Higher and Advanced Higher qualifications.
The Drama Department at St Aloysius' College has enjoyed great academic success in recent years. We aim to maintain and indeed improve upon this resounding academic success in the years to come, by encouraging commitment, dedication and hard work to both, practical and written, elements of the course.
The examination courses are 60% practical performance and 40% written exam. This offers diligent pupils the opportunity to work collaboratively with each other to create drama for presentation to a range of audiences. As a result of the practical and group nature of the work pupils will intrinsically develop an excellent teamwork ethic whilst studying in the Drama Department; as well as acquiring and developing transferable skills for lifelong learning such as: language and communication, public speaking, creativity, empathy, emotional intelligence, cooperation, personal organisation, independent study and confidence to name but a few.
Whether you have opted for drama as a certificated subject or have an interest in performing or production there is sure to be something that will inspire you. From our after school S1 and S2 drama clubs to large scale whole school productions there is sure to be something that will enable you to discover your own personal skills and interests.
All pupils studying for N5, Higher and Advanced Higher examinations are required to see live theatre as part of their courses, and will be given the opportunity to see productions from various genres while visiting theatres across Glasgow, Edinburgh and possibly further afield…
Video: Intro to National 5 Drama
Video: Intro to Higher Drama