As one of Glasgow's only denominational independent schools, faith and values are at the centre of everything we do here. No one understands this more than Emma Sharp, our Junior School Chaplaincy Coordinator.
"Faith is absolutely the heart of St. Aloysius' and everything that we do," she explains. "We strive to develop young men and women for others, and that journey begins right with our youngest pupils in Kindergarten. The values we promote are ones anyone would admire and hope to see in everyone. I like to think that every individual in our school community adds something unique and special."
She also describes how we encourage our pupils to embrace Christian values in everyday life at the College: "Within the classroom it is quite simple. We begin and end each day with a prayer. In the morning, we consider how we wish our day to go and we reflect on how we have experienced God's love before getting to school.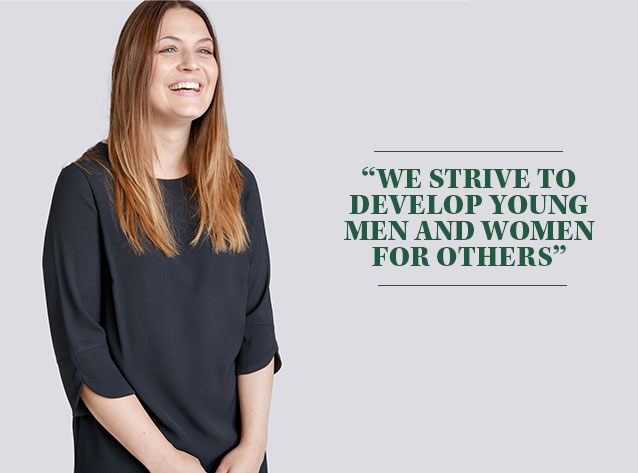 "Before going home we reflect upon our day, thinking about the good things that happened and also things that were not so good. In doing so, we try to find God in all the things that happen, the good and the bad.
"I feel my role is to facilitate opportunities for the children to develop their own relationship with God and gain a good understanding of themselves - but Chaplaincy is not just one person's role within the school. As a staff, we regularly use the language of the Jesuit Pupil Profile with our young people and find opportunities to celebrate their virtues and good habits."
The College's aspirations for every pupil stem from the Jesuit Pupil Profile and it's one of the most important aspects of life here. You can find out more about each of our five principal concepts here.
Emma also reflects on her time at the College so far, "I was blown away by the school when I visited for the first time and that opinion hasn't changed. The children are exceptional and wonderfully unique. There is tangible parental support and I work with an incredible group of teachers who are so committed and vibrant. Every day has something different to offer and it is wonderful to be a part of such a dynamic community.
"St. Aloysius' celebrates every individual and all that they have to offer and that is something that is very special to be a part of."