For some families, choosing independent education is a difficult decision, and finding the right school an even more testing question. However, for the Hamiltons, there was never any doubt that their son Jack would spend his school years in a Green Blazer.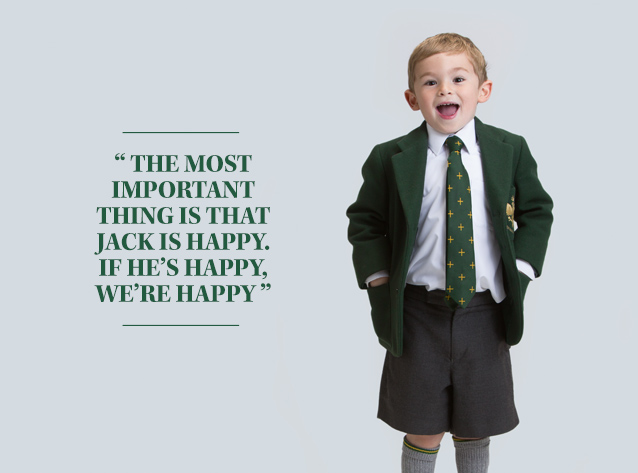 "I was a pupil in the Senior School and my husband always thought very highly of the way I spoke about my education," explains Mrs Hamilton. "We wanted Jack to benefit from the same quality of education I did. We decided to enroll Jack for Primary 1 before we even knew about the Kindergarten," says Mrs Hamilton. "But when we found out that there was an option for pre-school we thought it was a good idea to integrate him from as young an age as possible.
"This was the perfect decision for us and for Jack. It meant that his transition from Kindergarten to the Junior School has been completely seamless. Jack feels so at home and comfortable at the College – he has grown into the happiest wee boy with lots of friends."
Jack felt right at home in the Kindergarten, where the Early Years team create a family atmosphere in which the children are known and loved. It is often said that Mrs Docherty is mum to 40 children!
"Jack loved the Kindergarten," says Mrs Hamilton, "Since the day he started we have never had to worry about whether he's being well looked after or not because everyone is always so good to him. Every child is treated as an individual and it's clear that they are given exactly what they need.
"The community is really strong. Jack has a food allergy but we've not had a single issue with that since he has been at the College – even the children and other mums have learned what foods they can share with him in school and at birthday parties."
The ideal of discovering personal excellence is one that is evident in our children from as early as the Kindergarten. Entering the Junior School, the pupils never cease to amaze parents with what they have learned in class every day, and Mrs Hamilton can't wait to see how Jack develops through the school.
"Jack always comes home and surprises us with his confidence and new found interests and abilities," she tells us. "It's amazing what he can do and what he has learned through specialist subjects like Spanish, Science, Music and Rugby.
"It is nice to think that he is doing so well at things he might not have had the opportunity to try had he gone to another school. Going from being unable to read or write to what he can do now after three short years is just phenomenal."