Orla and Aidan may have swapped their blazers for lab coats but this story is no less of a Green Blazer one. In fact, it represents an important part of life in the Junior School.
As members of STEM club, Orla and Aidan learn about real life applications of Science, Technology, Engineering and Maths.
"I think it's important because you get to learn new things", Orla explains. "You get to be inventive and have ideas and projects to help the environment. You also learn lots about technology."
For Aidan, his participation in STEM is even more crucial: "If there was no science there would be no world because science makes everything happen. Without science there would be no medicine, lights and lots of the everyday things we take for granted."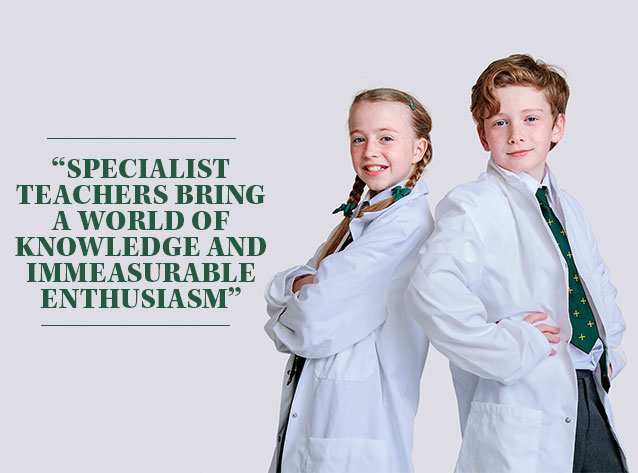 STEM club have taken part in national and international competitions where they have made educational films, written electronic music and carried out engineering projects; and, as if that wasn't enough, they're all under 12 years old.
Science is just one of many specialist subjects taught in the Junior School, along with Art, Music, PE, and Languages.
Mr McClintock, who runs STEM Club and is also a Junior School science teacher, explains why specialist subjects are so important: "It allows the class teacher to really focus on the core areas such as Language and Mathematics".
"Specialists bring a world of knowledge to their subject which can allow exploration in far more detail than might otherwise be possible. Each specialist has immeasurable enthusiasm for their own subject, so it is hard for that not to rub off on the children – sparking their own excitement and curiosity".
The STEM club is just one part of the varied and impressive co-curricular programme in the Junior School. We aim to provide something for every child: from basketball to Spanish, Cinema Club to the Rainbow Orchestra.
One of the College's key Jesuit aspirations is that of 'Magis Curriculum', or encouraging each child to 'Delight in Learning'. We achieve this through our varied Co-Curricular programme. While Orla and Aidan have discovered a deeper delight in learning through the STEM club, your child could find it elsewhere in our Magis Curriculum.