As one of Scotland's highest achieving institutions, it's easy to think that the College is all about academic excellence. Take academic high-flyer, Nina Snedden: Nina was one of eighteen pupils who achieved nine A grades in her National 5 examinations. She scored 100% in French, Italian and Latin. At the annual prize giving ceremony, she was awarded no less than seven prizes for French, Geography, Italian, Latin, Biology, English and Classics.
For Nina, however, this is only half the story: "Exam results are really important but once you leave the school the skills we have been taught outside of the classroom will help us excel in other areas of life.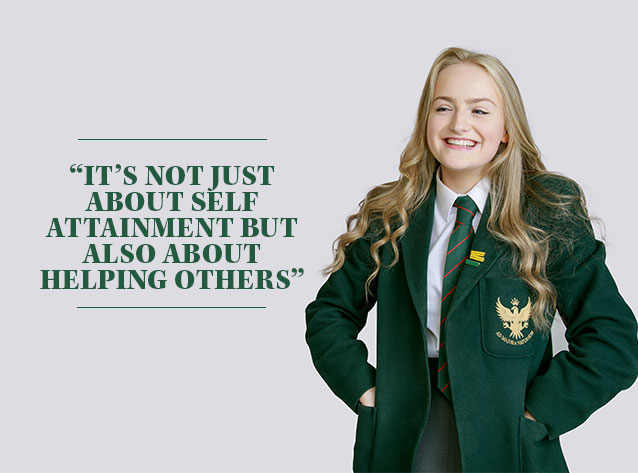 "At St Aloysius' there's a real focus on developing the whole person and the retreats and religious aspects of the school really help in this way.
"The retreats are definitely my fondest memory at St Aloysius' so far. They help you to get to know everyone in your year and mix with different groups. When you return you feel a part of something and much more linked as a community.
"They show you that it's not just about self-attainment but also about helping others; the greater good."
At St Aloysius' College we run a range of retreats and programmes through our chaplaincy.
Nina is humble about her academic successes and puts her results down to the support she receives in class, "In comparison to other schools the College does so much more to help during exam time. We have supported study and the teachers are very open, they always encourage us to ask questions and talk about any problems we've encountered.
"The College also ran talks on mental wellbeing during exams which was very informative and helpful."
Staff at St Aloysius' College are focused on recognising every pupil as an individual and strive for pupils 'to do more, to be more', the Ignation ideal of Magis.
"I feel the teachers know the best way to bring out my abilities, especially in languages. The addition of exchange students and native speakers in class also helps a great deal."