For some families, choosing independent education is a difficult decision, and finding the right school an even more testing question. However, for the Smiths, there was never any doubt that their sons Tiarnan and Callum would spend their school years in a Green Blazer. "I was at the school from P4, right through to S6 in 1986," Mr Smith, tells us. "My best friends to this day are my school friends, which is a great testament to the school and the environment it creates."
Mr Smith describes how Tiarnan joined the school in Primary four, and Callum joined in the Kindergarten. "I've been impressed by the exceptional education, and the great range of extra-curricular activities. What's more, there's a real focus on developing each child to be a well-rounded person when they leave the school."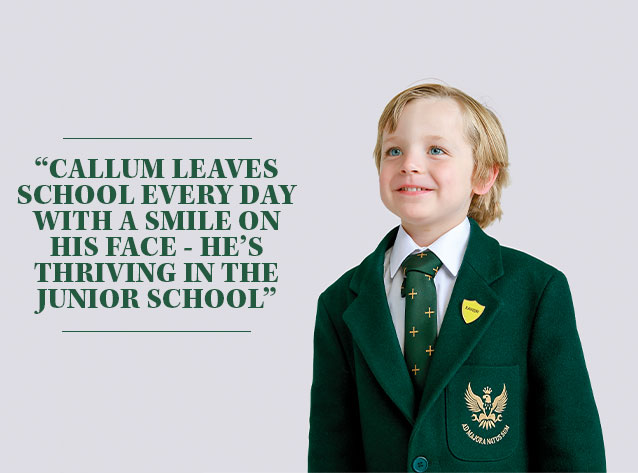 The story doesn't stop there for The Smiths as Mrs Smith is also Head of Art at the College. "The College is close to all of our hearts" she explains. "I see things from a different perspective as both a parent and a teacher and in my opinion there's no better school for our boys. As well as the fabulous curriculum and exam results, the support every child receives is second to none. Speak to any one of the pupils and you will see the difference being part of this community makes to them."
St Aloysius' is committed to pastoral care. In partnership with parents, we create a positive environment where every child is known and loved by supporting and safeguarding pupils. We also promote a culture of diversity, individual care and mutual respect.
"What matters most is the happiness of the boys." Mr Smith explains, "Tiarnan, who has just started the Senior school, is enthused by the new subjects. He's also making use of the new sports facility, which includes a gym hall, fitness suite and dance studio. Tiarnan's rugby is very important to him and he looks forward to training even more now.
"As for Callum, he has just started P1 and leaves school every day with a smile on his face - he is thriving in the fantastic environment in the Junior School.
"St. Aloysius has an amazing focus on the development of the individual, and this is working for both of our boys in different ways. One of the most important things for us is that our two boys will be encouraged to obtain their best - not just academically, but in life as well."