Sport
Senior
13th December 2022
St Aloysius' College Win Rugby U18 Schools Shield Final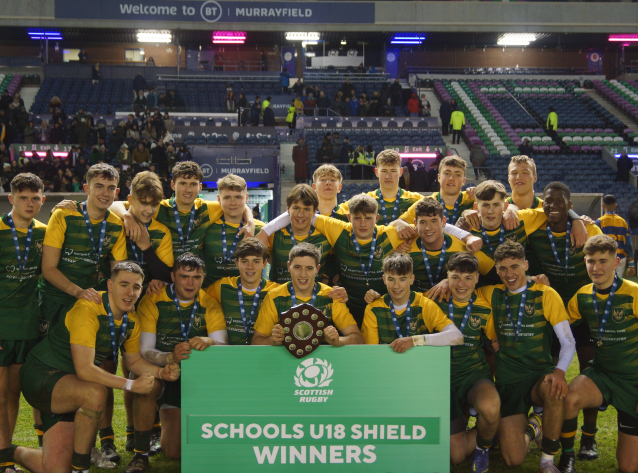 Last night at Murrayfield, St Aloysius' College brought home the U18 Schools Shield after an intense game in an all-west match up with The High School of Glasgow.
At halftime of the highly contested match – there was just one point in it with St Aloysius' at 15 and the High School at 14. Both teams played exceptionally well for the remainder of the hard-fought match – with the lead changing hands before a try with 3 minutes on the clock secured a 30 – 22 win for the College.
Our rugby captain, Johnny V. (S6) was also awarded Player of the Match – something that is no mean feat to achieve at Murrayfield.
We are incredibly proud of our team for all of their hard work this season, on and off the pitch. Both teams played immensely well, and were a great representation of Glasgow schools.
Try scorers: Johnny V. (S6), Anthony G. (S6), Oliver M. (S5), Michael R. (S6), David M. (S6)
1st XV: Andrew M. (S5), Michael C. (S5), Michael R. (S6), Johnny V. (S6), Daniel B. (S6), Matthew U. (S6), Mark M. (S6), Tiarnan S. (S6), Connor D. (S6), David M. (S6), Christopher D. (S5), Anthony G. (S6), Marc D. (S5), Thomas D. (S6), Oliver M. (S5)
Replacements: Leo M. (S5), Callum T. (S5), Felix L. (S5), Liam B. (S6), Oliver H. (S5), Ethan J. (S5), Andrew C. (S5)
See our album full of highlights here: https://flic.kr/ps/41bokF