Community
Senior
1st December 2022
Arrupe Foodbank Collections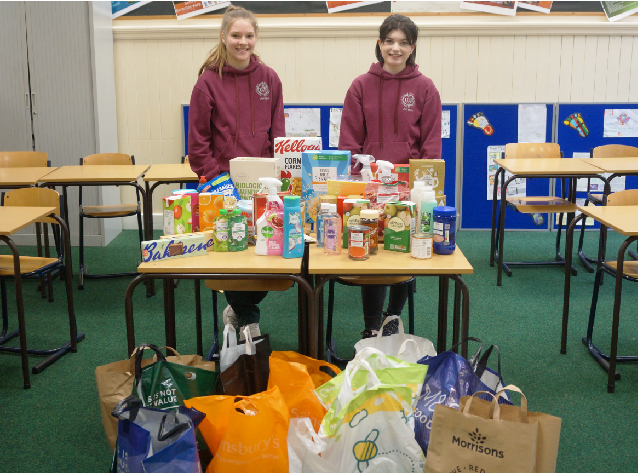 At St Aloysius College, working with our local community is at the core of our values as a school. Through our faith, we are taught the importance of supporting others – each day when we walk through the doors on 45 Hill Street, we see our College sign and are reminded of why we are here: "For the improvement in living and learning for the greater glory of God and the common good."
Our Arrupe Programme runs each year and provides our young people with opportunities to support the community – whether this be through placements at local schools and day centres or, as they have been doing at this time of year, organising donations of essential supplies for community initiatives.
Over the past few weeks our Arrupe ambassadors have been collecting donations from all over the school community – who have generously donated lots of items that will go a long way in helping someone this Christmas. This year, we are donating to YPF (Young Peoples Futures), which provides an invaluable service to the local Possilpark community. Ann, project manager at YPF, told us a bit more about the work the charity does to make sure no one in the community is being left out in time of need;
"We have been providing Youth and community development programmes in the Possilpark area since 2002. During the COVID period we supported the community by providing emergency food and fuel provisions.
Only recently were we able to move back into our main building that is managed by Glasgow Life.
Over the last few weeks, we have supported the community by providing a daily warm space, offering soup and sandwiches, tea, coffee etc. The response we have had from the community has been positive with over 70 attendances per week.
We also where possible offer food to families that need additional support."
We are greatly appreciative of all of the donations we have received so far, and are still accepting them across each year group – who are collecting different items. Any further donations can be delivered to our Chaplaincy Hub.
S1
• Tinned meat
• Soup (canned or packets)
• Washing up liquid/ soap powder
• Nappies/wipes/baby food
S2
• Tinned spaghetti/ pasta
• Tinned tomatoes/ pasta sauces
• Toilet rolls
• Shower gel
S3
• UHT milk
• Long-life fruit juice/diluting juice
• Cleaning products
• Biscuits
• Shampoo
S4
• Lentils, beans and pulses
• Tinned vegetables
• Rice puddings/custard
• Soap – bar or liquid
• Sweets
S5
• Tinned fish
• Rice/noodles
• Toothbrushes/toothpaste
• Pet food
S6
• Tea/coffee/ Hot chocolate
• Tinned fruit
• Cereals
• Sugar
• Deodorant