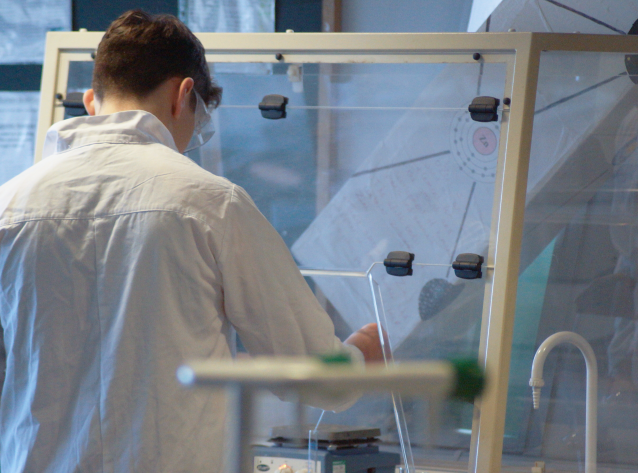 "Every aspect of the world today – even politics and international relations – is affected by chemistry." Professor Linus Pauling – double Nobel Laureate
Why Chemistry? Chemistry, apart from being the 'central' Science, is such an important subject. Our planet and our daily lives are so reliant on Chemistry and Chemists – we need it for new medicines, alternative fuels and new materials. From a practical point of view it is required if you want to study Medicine, Dentistry, Pharmacy and Veterinary Science.
The Department is situated on the top floor of the award-winning Clavius Building affording excellent views over the Campsies. We have four spacious laboratories and a large prep-room. With 4 teachers and a technician we are more than equipped to deal with the large numbers which study our subject. All S1 and 2 pupils study Chemistry with a high proportion going on to study the subject at N5. Our numbers at Higher and Advanced Higher level are the largest in the school outside of Maths and English.
Chemistry in the College is extremely well resourced and we support our pupils at all levels. Practical work is a vital component of our subject and we embed it where possible – over and above SQA Practical Assignments and Projects.
We actively encourage our pupils to participate in our Science Club – 'Labrats'. Pupils at all stages also have opportunities to be involved in trips and co-curricular activities. S1 pupils participate in Chemistry at Work and Salters' Festival of Chemistry, S2/3/4 pupils compete in the Royal Society of Chemistry Top of The Bench Competition and S4 pupils visit the Chemistry Department at Glasgow University. S5 pupils can also participate in the SCIS Chemistry Masterclass and the Schools' Analyst competition where they learn techniques used in Advanced Higher and university.
Video: Intro to National 5 Chemistry
Video: Intro to Higher Chemistry
Video: Intro to Advanced Higher Chemistry